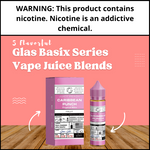 Glas Vapor – a premier vape brand in the vaping industry knows what it takes to provide you with a highly pleasurable experience. In the very beginning, the vape brand created top-quality mods. Currently, they're creating exceptionally flavored vape juices for vaping enthusiasts intended to enjoy top-rated ingredients and quality flavors. Having started their vaping journey by developing hardware, they've done the same for crafting the finest vape liquids carefully.
The Glas Vapor team is highly passionate about achieving excellence and rigorous flavor development for ensuring quality and consistency. They use only the finest ingredients and flavorings, making them stand out from the rest. The signature vape collection provides you with ultimate sophistication and class to deliver the wonderful vaping experience possible.
Glas Vapor offers a comprehensive range of products from their Basix Series to their dessert and fruity delights to their Glas Vapor Basix Salt lineup. Their main objective is to provide the taste buds and palate with the unmatched delicious flavorful experience possible.
When it comes to choosing exceptional ingredients and outstanding flavors, the Glas Vapor team knows how to satisfy your craving as soon as the vapor hits your tongue. Once you start vaping, you will continue puffing away again and again. Let's take a look at the best flavorful Glas Basix Service vape juice blends:
O.F.T by Glas Basix Series 60ml
O.F.T by Glas Basix Series is the award-winning classic blend from the Badge Collection. This mouthwatering Glas vape juice blend comes with the infusion of ripe and juicy watermelon slices and the old fashion saltwater taffy and hints of strawberry. It has the classic savor and sweetness that will make you come back for more. 
Pebbles (PBLS) by Glas Basix Series 60ml
Pebbles (PBLS) by Glas Basix Series 60ml is the award-winning classic from the Badge Collection. It's a sophisticated dessert blend of fruity cereal, rich sweet cream, and delicate French macarons. This all-time vape favorite will make you crave this vape blend again and again. 
Caribbean Punch by Glas Basix Series 60ml
Want to live the intoxicating island vibe? Why don't you vape Caribbean Punch by Glas Basix Series 60ml! This Glas vape juice blend has succulent peaches, mouthwatering pineapples, sweet strawberries, refreshing apples, and a unique touch of apricot. While vaping this ejuice, you'll get absolute tropical bliss. 
Sugar Cookie by Glas Basix Series 60ml
As the name suggests, the Sugar Cookie Glas vape juice tastes fresh from the oven. You'll feel like having the warm buttery cookie dough glazed with golden brown sugar caramel with a nutmeg and cinnamon finish. 
Butterscotch Reserve is the complimentary tobacco blend that you can love to get on your hands. Tobacco flavor goes well with the sweet and rich flavor. This Glas vape juice comes with the perfect combination of butterscotch and caramel flavor. 
Bottom Line –
Are you looking for the best flavorful Glas vape juice blends? If yes, then you should look no further than Ejuice Store – a one-stop-destination for vape juice flavors and accessories. For more information, please
visit our website
today