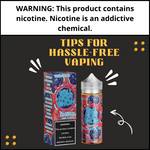 The origin of vaping is traced to China, where the first e-cigarettes were invented. The term vaping was later coined from a fabricated word 'vapor'. Today, this form of smoking has evolved over the years, attracting a widespread following.
With vaping becoming increasingly popular, it is imperative that you know the basics. Here are some helpful tips to help you enjoy a hassle-free vaping experience.
Buy a good-quality starter kit:
If you are a newbie, you should begin your vaping journey with a quality starter kit. Yes, advanced vapers may find devices like variable wattage and box mods quite enticing. But they lack the required skills and experience to enjoy them. Hence, they are more likely to have a disastrous experience that may take them off vaping permanently.
As a newbie, you have to start with a basic and simple device. Avoid variable wattage and other advanced features as they are difficult to use.Starter kit is lightweight and portable, making it a great travel companion.
Buy premium e-juice:
At the core of your vaping experience is E-liquid. It comes in many styles and flavours and can be based on nicotine or non-nicotine base. A good quality e-liquid will have flavour and will produce a smooth vape that you'll want to use as a tobacco alternative, as a fun way to experiment with flavour and as a hobby.
For the best vaping experience, you need to purchase your e-liquid from a supplier you can trust. Ejuicestore.com offers the best vape juice and other vaping supplies in all flavors and styles, including menthol, tobacco, tropical, fruit, dessert and premium flavors for you to choose from. We have a dedicated section for our signature flavors that would be a one-stop shop for your vaping needs. Enjoy our selection of quality E-juice in various nicotine strengths: 0mg, 1.5mg, 3mg, 6mg and even 12mg.
Vapers who are looking for premium vape juice we recommend Blunomenon by Nomenon 120ml - delicious blue raspberry hard candy infused with the scientific essence of yum. Available in two primary flavours including Candy and Blueberry, Blunomenon by Nomenon is a premium quality ejuice you can opt for. Obtainable in 0mg, 3mg and 6mg nicotine strength, and VG/PG Ratio: 70/30, this vape juice is a must try whether you are a beginner or seasoned vaper. Place your order now!