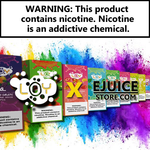 LOY XL is a leading name in the disposable vape industry offering a simple yet unique vaping experience. As a premier supplier, they specialize in providing small and compact disposable pod systems with 5ml capacity tanks and nicotine strength of 5% in every flavor.
Every disposable pod device offers around 1500 puffs and comes with a fully charged battery making sure that you start vaping right away without charging the device. If you're thinking to try out different flavorful disposable pods, here are a few LOY XL disposable pod flavors you should consider vaping:
This Blue Raz Disposable Pod by LOY XL comes with a delicious blend of blue raspberry taffy candy flavors that will take your sweet tooth to a happy place. This pod device offers rich flavors and powerful clouds. In short and simple words, Blue Raz Disposable Pod by LOY XL has everything that a candy flavored vape pod should have.
This disposable pod has light creamy flavor that will satisfy any vaper seeking for whipped cream. The LOY XL mouth-watering treat will take your taste buds to a whole new level.
The Lush Ice vape pod is a splash of watermelon flavor complemented by an exhilarating finish of menthol. This LOY XL disposable pod is sure to delight every menthol lover for sure.
Do you like pineapple flavor? The Iced Pineapple Disposable Pod by LOY XL is a pineapple flavored pod that gets complimented by the arctic icy mint delight. You will get an inhaling sensation of fresh pineapple and splashes of pina colada tropical undertones along with a rejuvenating menthol finish.
If you enjoy vaping mango and grape flavors, you will get amazing flavored notes of ripe grapes blended smoothly with juicy mangoes from Mango Grape Disposable Pod. This unique taste will amaze your vape taste buds.
Are you seeking rich exotic fruit flavors? If yes, then you can't go wrong with Passion Fruit Disposable Pod by LOY XL. This vape pod has a taste of sugary and slightly sweet and rich fragrance that won't disappoint you at all.
The Mighty Mint pod device will make your taste buds wild. This pod is perfect for all menthol lovers around the world. The LOY XL disposable pod combines the delicacies of mint with menthol that will make you feel like breathing ice.
This disposable pod has the mouthwatering blend of two luscious fruits i.e. kiwi and strawberry. Both of them will remind you of the summertime while vaping. The juicy and ripe notes of strawberries have the sweetness and tanginess and the tropical goodness of kiwi. Taking every puff will eliminate your thirst and uplift your mood.
Get ready to enjoy the amazing sensation of Strawberry Watermelon Disposable Pod by LOY XL. This flavored vape bursts with sweet strawberry and luscious watermelon flavors. If you love bubblegum vape pods, then Strawberry Watermelon by LOY XL is ideal for you.
You have to spend hours making a perfect and pure balance of banana smoothie. With Banana Milkshake Disposable Pod by LOY XL brings in the sweet ripe refreshing banana flavors along with light notes of cream and milk. All of them are combined to deliver a wonderful vaping experience.
Bottom Line –
Whatever type of LOY XL vape flavors you want to buy, you can find your favorite from Ejuice Store. We specialize in providing a comprehensive range of disposable vape pod flavors to choose from.