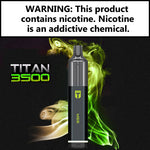 Disposable vape pods are becoming widely popular among those who want to quit smoking cigarettes for good. The best disposable pods closely resemble the draw & sensation of smoking a cigarette and they are available in many appetizing flavours as well. Also they are much more convenient to carry around than a pack of cigarettes – as most are smaller than a conventional USB drive.
With disposable vapes you avail mouth-watering flavours & a pleasant throat hit – all with little to no upkeep needed. You just need to choose the correct one. So to make the selection easy we have put together the list of the best disposable pod of 2021.
Hyppe Max:
If you are looking for the most durable disposable vape pen available in the market, it has to be Hyppe Max disposables. They pack a 650mAh battery & come prefiled with a massive 5ml of vape juice. This lets you vape longer on a single disposable & makes the Hyppe Max an excellent choice for traveling, extended road trips, or even just daily use. Each Hyppe Max can last up to 1500 puffs.
Posh Plus XL Disposables:
Posh Plus XL Disposables are some of the best available in the market. They are draw activated for simple use and they provide a superb mouth to lung draw. They provide a pleasing vaping experience that closely resembles the feeling of inhaling a cigarette and are accessible in numerous appetizing flavours. As they are small & light, it is easy to fit them in your pocket.
Strawberry Sour Apple Disposable Pod by Titan 3500:
If you are looking for a disposable vape pod with unlimited puff, then Strawberry Sour Apple Disposable Pod by Titan 3500 has to be it. The device comes with 3500 puffs which gives a delightful vaping experience on the go for a long time. This disposable comes with 3 primary flavours including Strawberry, Apple, and Candy. The device comes with an innovative mesh coil which enhances every flavour you put in. The disposable also uses adjustable airflow technology that lets you choose how you want to vape, heightening your vaping experience even further.
If you want to check out some of the premium e-juices online, then ejuicestore.com has you covered. Choose from a wide range of vape liquids - God Nectar by Bad Drip 60ml, Fuji Apple Strawberry Nectarine by Pachamama 60ml, Maui Sun by Naked 100 60ml, Castle Long by Five Pawns 60ml and Pink Punch Lemonade by Lemon Twist among others.