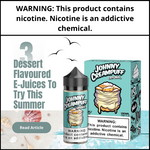 The weather may be heating up but your vape doesn't have to! There's something irresistible about a refreshing summer vape that just makes you feel good.The rays soaking into your skin and the atmosphere of the sweltering summer's day make it the perfect setting for vaping. Whether you are spending the day at the beach or hung out by a pool, you need the perfect e-liquid for those long days out in the heat.
Regardless of your preference - whether you like classic fruity tastes or exotic flavours there's something in this list for everyone.
Funnel Cake Vape Juice by Fryd 120ml (2x60ml):
This Vape Juice is a classic funnel cake that brings back fond memories of fairs and carnivals. FRYD has perfectly crafted the taste of a freshly baked confection, topped with powdered sugar that melts in your mouth so easily. Funnel Cake by FRYD is sure to be your new all day vape this summer. Manufactured by Daddy's Vapor Distro and sold under the brand name of FRYD, this vape will make your mouth watering. Get this summer treat in 0mg, 3mg, and 6mg nicotine potency as per your needs.
Original by Johnny Creampuff 100ml:
The Original by Johnny Creampuff is a must-have for any sweet tooth. This vape is perfectly crafted, leaving your mouth watering with every puff. The vanilla creampuff sits delicately atop the creamiest of frosted cakes and piles high with whipped cream – making this dessert vape an instant favorite.
Appleberry Crumble by IVG:
The IVG team has created yet another masterpiece. Appleberry Crumble is an ode to the sweetness of summer days and the decadence of a tasty dessert. Appleberry Crumble is a delightful fruity and dessert e-liquid from IVG. On inhale, fresh ripe berries and crisp slices off apple are evident. On exhale, a luxurious dollop of cream mimics the taste of pastry - this one will have you reminiscing of your childhood favourite dessert.
All of these afore-mentioned e-juices are currently available at Ejuice Store – your one-stop
online vape store
. If you are a big fan of dessert flavoured vape juices or simply looking for a new e-juice to try this summer,
E
juice
 S
tore
has you covered with its extensive collection of vape juices from world's renowned manufacturers and brands. Feel free to visit us and place order for your favourite e-juice online!