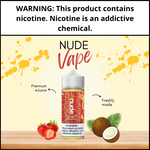 Looking for high-quality yet affordable vape juice brand? When it comes to fruit flavored vape juices, we at E Juice Store being an online vape shop swear by Nude brand. Nude amalgamates three fruits together so perfectly that it offers you a delicious experience that your taste buds will keep relishing for years to come. Nude has gained ample popularity in the past few years as more number of vapers are discovering the realistic fruit flavor that Nude offers. The fruity delights by Nude are pure and bold which you can experience on the first hit itself. Both the inhale and exhale offers delightful experience. Moreover, the nicotine level is gentle hence it does not tear at the user's throat allowing you to puff on these flavors for days at a time. The vape juices by Nude are neither too watery nor too sludgy which makes it flow smoothly through the atomizer creating calming clouds that neither clog nor burn the coils.
Among the various flavors by Nude, our best selling vape juices include A.P.K, P.O.M and S.C.P
Apple Pear Kiwi (A.P.K) by Nude
A.P.K. vape juice by Nude is a blend of tart green fruits which gives a break to the ripe fruit flavors of summer. Kiwi dominates the flavor profile of the vape juice followed by the sourness of green apple. The flavor of pear is quite quiet until you come to the finishing line. Be careful else you might the pear! The tartness of the vape juice makes it different from others. Want some sweet experience? Then check out the next flavors below.
Pineapple Orange Mango (P.O.M) by Nude
P.O.M vape juice by Nude is a truly delightful combination of sweet ripe yellow and orange fruits that include fresh pineapple, sweet orange and luscious mango. You will be blown away by the smoothness of the flavor combination that are mixed together in glorious fruit harmony. While pineapple gives a subtle flavor and is not overpowering, the orange smoothly melts into your taste buds. And at the end, mango joins in and makes your taste buds sing the praises of fresh summer goodness.
Strawberry Coconut Pineapple (S.C.P) Vape Juice by Nude
S.C.P Vape Juice by Nude is a true power pack of tropical fruit flavor, all the credit goes to the pina colada combo at the end. The coconut flavor amalgamates magnificently with the pineapple on the exhale, which offers you a vaping experience of a Hawaiian vacation in a single puff. S.C.P vape juice by Nude is such a delicious flavor that you will love to add to your collection of fruit flavored vape juice.
If you wish to check out other such amazing flavors, then browse our website today.