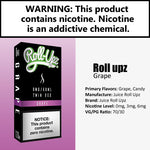 The number of vape juices is never-ending with more new varieties and flavors being created every day. Vape juice manufacturers know that vapers love variety and aim to satisfy their cravings for new flavors by combining, experimenting, and exploring new tastes that draw from the world of food and drink.
Flavors are very essential to vape. Vapers want a flavor they will never get tired of, no matter how much they vape. But finding that one special juice is not easy. There are just so many of them.
Shop Best Selling Vape Juice Flavors
At EJuice Store, we only stock the best vape juices, featuring a galaxy of flavors across every kind of e-liquid. We offer nicotine salt e-juices, high VG, high PG, 50/50 juices, nicotine-free vape juices. If it is making waves in the vaping world, you can find it here, be it premium e-liquids like Grape Vape Juice by Juice Roll Upz 120ml or 2 pack bundle Tortoise Blood by  Shijin Vapor 200ml.
As one of the leading online vape companies, we offer a wide selection of vape juices from different brands in different strengths and flavors. Our prices are competitive, and we offer superior customer service with fast dispatch.
The Best Vape Juice Deals
At EJuice Store you will always find a great deal on e-liquid and vaping accessories. Whether it is mix-and-match or discounted bundles, you can explore the staggering variety of flavors or simply stay stocked up on your favorites, all while saving money. For the best vape liquid deals, look no further than EJuice Store.
The good news is that most vape juices fall into a few basic flavors, which are detailed below. If you want to get straight to it, check out our top e-juices in the most popular brands.
#1 Cookie Butter by Loaded:
Cookie Butter comes under the category of delicious vape juices that get translated into great-tasting vapor. The main flavor profiles of the ejuice include baked butter cookies that all combine to provide users with an unforgettable vaping experience. The flavor of oatmeal cookie hits the throat right away as the sugary cloud fills the mouth. This ejuice comes in a single 120mlbottle. Users can choose from three different nicotine levels - 0mg, 3mg, and 6mg. This ejuice also has a high VG option with a ratio of 70/30 VG/PG.
#2. Strawberry Watermelon Bubblegum by Candy King
Strawberry Watermelon Bubblegum s a true summer delight. It features sweet watermelons paired with fresh strawberries.
This sweet and chewy candy ejuice delivers your favorite bubblegum flavor, with sweet watermelon and fresh strawberry fruit juice making up its liquid center! The ejuice delivers a breathy and gentle ht of chewy strawberry and watermelon, bursting with sweet and dominant flavor. Next in this delicious ejuice is sun-kissed strawberry, offering a kiss of gentle sun flavor in every juicy mouthful. This vape juice promises to be the candy flavor your vape taste buds have been looking for: chewy and sweet bubblegum with a surprise liquid fruit center!
#3: Juice Roll Upz
Grape Vape Juice by Juice Roll Upz 120ml is a masterfully blended eliquid meant for every grape lover! The premium ejuice has the juiciest and most delicious grape flavoring that we have ever tasted before. The inhale and exhale meets you with strong grape notes that will leave you tasting fresh juicy grapes from the vine. The flavor lasts through the entire day and is never fading. The throat hit is mild and smooth simply allowing you to enjoy the fresh flavor all day and night! The nicotine levels of this eliquid include 0mg, 3mg, and 6mg.
Here at EJuice Store, we understand that the flavors of ejuices vary from person to person. Be that as it may, we present to you our best vape juice flavors that we hope you will love. From best brands to niche flavors, you are sure to find something suiting your taste buds. Our best ejuices come at the best prices, the highest qualities, and the most flavor n the industry! Check them out today! We are sure you won't be disappointed!