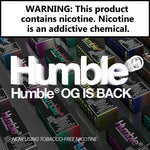 Are you looking for Blue Raspberry Vape Juice by Juice Roll Upz 120ml or any other ejuice flavors? This is the most essential part of the vaping experience. You have a nice device and you are ready to conquer the vape world.
Shopping for the best vape juice is both a fun as well as an overwhelming experience. With so many flavors on the market, it can quickly become frustrating and confusing. This post will help you through the process of choosing the right vape juice for you.
Top E-Juice Picks and Vape Juice Brands
There are so many vape juices out there. Hence, picking one or even a few can be quite overwhelming. And if you are still wondering about the best vape juice, start by looking at our top picks or best brands. There is something for every vaper.
Jam Monster - Strawberry (100ml)
This fruit flavor makes for a great all-day vape. The 100ml bottle imparts a sweet, delicious flavor of strawberry jam with a bit of mouth-watering butter on toast. Do not forget to try the Blueberry one too! Get it from ejuicestore.com today! 
The One - Lemon Crumble (100ml)
The One from Beard Vape specializes in being one-of-a-kind dessert flavors. And its Lemon Crumble is a true recreation of the famous namesake.
Lemon feels more like icing than a tart
Crunchy crumble cake with hints on Vanilla
Bakery finish with hints of brown sugar
Air Factory - Melon Lush (60ml)
This is a delicious fruit candy vape juice. This is a delicious candy melon tart that combines juicy watermelon flavor with honeydew undertones and sweet taffy. Air Factory recreates the best taffy candy of all time - the green wrapper watermelon.
Juice Roll Upz - Blue Raspberry
This tangy blue raspberry candy-flavored vape juice is a great all-day vape. The sweet and sour flavor of the ejuice will fill your mouth in its glorious raspberry juice. Inhale sour blue raspberry flavor and exhale sugary sweet blue raspberry flavor leaving you feeling refreshed.
Pachamama - Strawberry Guava Jackfruit
With a less common tropical fruit combination, Pachamama is another killer flavor profile amongst all. Upon inhale you will get a clear hint of strawberry and guava, and mango, jackfruit upon exhale. Continuously delicious and with a wonderful aroma, this vape juice is a hit.
Formerly known as Trpicak Pucler Punch, vape juice is considered the best among beverage flavors. The vape juice is a refreshing blend of exotic fruits that tastes like your favorite fruit punch.
Vapetasia Killer Kustard  (100ml)
The custard flavor vape juice with a smooth, rich creamy vanilla custard has made a name for itself. This s the base custard flavor for the rest of the Vapetasia custard line.
Buy Strawberry Kustard - It carries the same great vanilla custard flavor along with a hint of strawberry that is not overpowering.
Buy the delicious Lemon Kustard - This is a creamy custard with a prominent lemon flavor and the perfect amount of tart.
This vape juice has a clean, bright, bursting tropical blend of pineapple, honeydew melons, and cantaloupe with a cool menthol backing.
Naked American Patriot (Tobacco)
This is s smooth, classic flavor vape juice with hints of vanilla and a touch of fruit delivering a satisfying throat hit.
If you are looking for an authentic fruit-flavored ejuice, buy Blue Raspberry by Juice Roll Upz 120ml from ejuicestore.com today. And for any further vape flavors or brands information, do forget to give us a call!