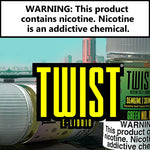 There are so many important things to look for when choosing a new e-liquid. Besides the price of your vape juice, you also need to look for the quality of ingredients, reputation of the vendor/manufacturer, PG/VG ratio, with the main factor of enjoying the taste and overall vape experience. Premium vape juices will taste good, be well blended, and stand out, leaving a nice aftertaste.
However, there are a few trusted brands that never seem to disappoint no matter the class of flavor. Also, there are a few independent choices that just stand out from the crowd.
WHAT ARE THE BEST E-JUICE BRANDS?
Selected e-liquid brands that people like (almost) all of the time -
Whilst this is not an exhaustive list, these are the brands that generally people pretty much like talking to their flavors.
Naked: Naked is popular for its simplicity yet deliciously flavored fruit and menthol e-liquids that never get old. The brand tends to stick to the flavors found in nature.
Twist E-Liquids: The brand completely stands true to its name. Twist and their juice lines like Fruit Twist and Lemon Twist among others, make vape juices that put a twist on classic flavor themes like melon, cookies, lemon, and more.
The monster became popular with the Jam Monster line, which recreates jam on toast, and also makes a top-notch line of custards with its Custard Monster as well as a more traditional fruit line with its Fruit Monster.
Different flavors to try are:
Vanilla Custard or Strawberry Custard
Strawberry or Blueberry Jam Monster
Beard Vape Co.
This brand makes for high-quality artisanal vape juices it is known for the recognizable logo, numbered recipes, and fantastic flavors. Beard also makes the absolute top-notch line, THE ONE, which we enjoy quite a bit. Try the Strawberry Donut or the Lemon Crumble!
Air Factory makes for some faithful sweet flavors that are like the classic airheads as well some new flavor combos that you might not expect. Some great Air Factory flavors to start with are Melon Lush, Strawberry Kiwi, Blue Razz, and Mango.
Keep It 100vape brand keeps everything on the top shelf with their sweet concoctions and tasty combinations. Try the Berry Au Lait, Shake, Maui Blast, and OG Summer Blue.
Famous for their Killer Kustard, Vapetasia makes some of the most smooth, tasty, and creamy dessert vape juices.
Kind Juice
Kind Juice specializes n providing high-quality organic vape juices that are very smooth, flavorful, and VG-based. They have a wide selection of tobacco, nectar, and fruit juices that can be purchased easily online.
The delectable sweetness of this vape juice absolutely pleases the senses. One of its popular ejuice, Hop Scotch by Humble Juice Co 120ml, holds a blend of rich flavors and is well balanced to have for an all-day treat! The decadent taste of Hop Scotch is sure to capture your heart!
For more information about vape juice brands and flavors, visit ejuicestore.com today!