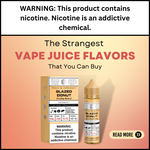 Smokers at times follow some common stages when they make a transition from smoking to vaping. They gradually become habituated to the new devices and ultimately enjoy the throat hit of flavor that they desire to have.
Having help from health advice and reputed vape suppliers they decide on the device that best suits them. They also develop a routine that is most suitable for them and help them to quit smoking and make the transition smooth and easy.
Once they settle on the ideal choice of device and routine, they experiment further. It is possible to personalize and experiment with vaping and the biggest of those is the encounter with different flavors. There is an enormous number of flavors that you can have from us at E Juice Store. We have an online vape shop and you can be at the site and order your desired vape juice, devices, and accessories anytime.
The choices of flavors are so many that at times it may be confusing. You can have flavors starting from various tobacco blends to mint, menthol, foods, and fruits. Some flavors replicate some deserts or salads that you love.
Let us have a look at some of the strangest flavors that you can buy.
Butter pastry
If you buy Glazed Donut by Glas Basix Series in 60ml from us you can have the bakery experience without going out of your home. You can enjoy the flavor of freshly baked layers of buttery pastry topped with a warm sugar glaze highlighted with hints of Madagascar vanilla. You can enjoy the taste of donuts without thinking about calories or cavities.
Lychee and Martini
If you love to have the flavor of menthol, lychee, strawberry, and Martini in the vape juice, it is possible to have such if you buy Lychee by Alcovape in 60ml. The wonderful freshness that you will enjoy is impossible to describe. So, it is wise to buy one bottle of this vape juice and try it out. 
 Mango Kiwi Vodka
Would you love to taste Vodka along with the flavor of mango and kiwi? If you love to have such a flavor in the vape juice, do buy Mango by Alcovape in 60ml. You will enjoy the flavor of creamy carabao mango and kiwi peel along with that of Vodka. You will experience an icy sensation as you exhale. 
Strawberry lemon candy
You can buy this flavor in 100ml from us now. If you purchase this vape juice made by Cloud Nurdz it will be possible to taste the flavor of strawberry lemon candy without even going out to the store. 
So, as you see the options are many and you can easily contact us to choose the ideal flavor that you desire to have.