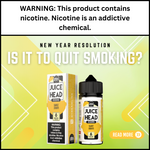 Is it that your New Resolution is to quit smoking? If it is then you are at the right place. It is not mandatory that your resolution needs to be to quit smoking but as we are all becoming health conscious this is a widely accepted New Year Resolution along with taking up running or practicing meditation. However, we at E Juice Store would be happy if you decided to quit smoking on New Year's Eve.
It is not that we are happy because we can have one more customer, but it is such as we can offer you the pleasure of tasting sweet tart, and whipped cream if you buy Sweet Cream by Juice Head Desserts in 100ml from us. We would also love to discuss certain aspects which will help you to stick to your resolution more comfortably.
How hard it is to quit smoking?
This is a common question that comes to our minds when we decide to quit smoking. If you look at the statistics you will notice that four-fifth of people who have made up their minds to quit smoking drop out of their goal in the first few weeks. So, if you are thinking about quitting smoking, then be careful for the first few weeks. If you are able to cross these weeks, you will be able to stick to your New Year resolution. So, it is not hard or impossible but you need to have a strong determination to be with your resolution.
We can be your able friend in this respect. We are a reputed store making it possible to have vaping devices, accessories, and vape juices. It is possible to have the best quality devices and accessories along with vape juices in different flavors. Some of the flavors you can have from us are the weirdest type that you can think of. Like you can have vape juices having the flavor of freshly baked donuts, Vodka with a touch of mango and kiwi, or Martine mixed with lychee. So, we desire that you stick to your New Year resolution and contact us for any help that you require.
 The success story to know 
If you have thought that it is quite difficult to stick to your New Year resolution, it is wrong. Statistics show that 51% of those who took up a similar resolution as yours did it successfully in 2019 and 2020. So, why can't you stick to your resolution? Moreover, between March and July 2020, one million smokers quit. So, do stand firm on your resolution and it will be possible for you to quit smoking.
If you need any nature of help, do contact us and we will be happy to help.