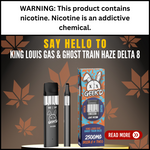 When thinking about vaping something unique, you can never go wrong with the disposables by Geek'd Extracts. Geek'd Extracts is a vaping company built by the industry-best experts with a total of forty years of combined experience in the industry. 
Their experts always strive to deliver complete transparency to their customers. They source materials from vetted suppliers and perform bath-specific testing at DEA registered labs. Geek'd Extracts is at the forefront of innovation with its unique product concepts and will always put the interests of customers first. 
It's time to say hello to King Louis Gas & Ghost Train Haze Delta 8 + THC-O 2.5g Disposable by Geek'd Extracts. You should discover Geek'd Extracts Delta 8 + THC-O Disposable which offers 2.5 grams of Delta 8 and THC-O cannabinoids from two different strains in the same vape. This unique two-in-one design disposable comes with two different strains like Indica and Sativa. You can even change the strain by simply flipping a switch at the base. 
King Louis Gas & Ghost Train Haze Delta 8 + THC-O 2.5g Disposable by Geek'd Extracts has two different strains like other Geek'd Extracts disposables. 
Strains – 
King Louis Gas (Indica)

Ghost Train Haze (Sativa)
Special Features –
Capacity – 2.5 gram (2500mg)

Concentrate – Live Resin 

Integrated rechargeable battery 

Cannabinoid – Delta 8, THC-O, Terpenes 

Tested in a third party lab 

Compliant with the 2018 Farm Bill Act Containing Less Than 0.3% Delta 9 THC
King Louis Gas (Indica) 
King Louis strain is a potent Indica-dominant cross of L.A. Confidential, and OG Kush with Myrcene, Limonene, and Caryophyllene as the primary terpenes like the primary terpenes. This strain offers a spicy, earthy, citrus pine and hops flavor and fragrance. King Louis makes an ideal strain for insomnia, pain and anxiety. 
Ghost Train Haze (Sativa)
Ghost Train Haze is a Sativa cross of Ghost OG and Neville's Wreck. It has a sour citrus and floral fragrance while offering a potent dose of THC to eradicate pain, depression and appetite loss. 
Understanding Delta 8 –
Delta 8 connects to CB1 and CB2 receptors and its relationship gives you more full-body effect. It offers a feeling of relaxation, clear-headedness and energy to the users. D8 helps in minimizing anxiety and sleepiness while supporting pain relief and protecting brain cells. 
Understanding THCO –
THCO stands for tetrahydrocannabinol acetate. It is stronger and more powerful than certain other compounds at least two times stronger than Delya-9. Like Delta 10, THCO is psychoactive. This advanced compound mellows out the mind and offers you different levels of psychedelic experience depending on the dosage. 
Bottom Line –
Do you want to shop King Louis Gas & Ghost Train Haze Delta 8 + THC-O 2.5g Disposable by Geek'd Extracts? If yes, you should make your purchase at Ejuice Store. Please check out other Geek'd Extracts disposable delights and make your vaping experience as wonderful as possible.