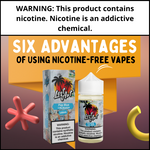 Vaping is the best alternative if you desire to quit smoking. It makes it possible to eliminate the smoky side effects and reduce carcinogen intake. However, at times vapers forget the actual motive to take up vaping and pick e-liquids that have some percentage of nicotine in it. For example, if you buy Slotter Pop Blue by Lost Art in 100ml from us at Ejuice Store, it is possible to purchase the vape juice with a nicotine level of 0mg, 3mg, and 6mg. Let us see why buying the one with a 0mg nicotine level is advantageous.
Avoid the side effects of nicotine 
Due to the same reason, people love nicotine as they love coffee. However, drinking coffee may not be as bad for your body as nicotine. The side effects of nicotine are gastrointestinal disorders, heartburn, and throat irritation. If while quitting smoking, if you switch to nicotine-free or less nicotine vapes, you can easily avoid these side effects.  
Learn vaping skills without nicotine 
The core element of vaping culture are tricks, skills, and forming a massive cloud of smoke. These may be the primary reason for you to switch to vaping. However, it requires a lot of practice to master these skills, and if you switch to nicotine-free vapes, you can practice without overloading your body with nicotine. If you notice, cloud competitors practice with nicotine-free vapes.
Possible to slowly reduce nicotine intake 
As we have said, it is possible to have vape juices online from us at various nicotine levels. However, it may not be easy to control your craving after quitting smoking if you suddenly try to use nicotine-free vape juice. So, it is prudent to diminish the nicotine level in steps. First, try with 6mg, then 3mg, and ultimately 0mg nicotine level. This will help you to have a zero-addiction lifestyle.
Customize your vaping style 
It is not that you need to always vape zero nicotine vape. You can easily customize your vaping style. You can mix the nicotine level according to your desire and smoke vape juice with nicotine in between using zero-level nicotine. However, it is wise to remember that the ultimate objective is to switch to a zero-level nicotine vape. 
Replace nicotine with flavors 
It is not that if you purchase zero-level nicotine vape juice, you have to curtail on flavors. Like if you buy 0mg Slotter Pop Blue by Lost Art in 100ml from us at E Juice Store, it is possible to enjoy the flavors of Blue Slushie, Blue Raspberry, and Popsicle. Moreover, you can enjoy the flavors in a proper manner if you use nicotine-free vape juice.
Enjoy a new experience 
Still, now you have smoked cigarettes having nicotine. So, when you try vaping nicotine-free vape juices, it will be a new experience.
So, if you have made up your mind to quit smoking and try vaping 0mg nicotine level vape juice, do remember us at Ejuice Store. It is possible to buy 
online vape juice
 from us at an affordable price.