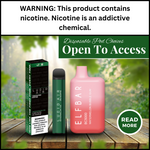 When you decide to buy a disposable pod, there are various options open in front of you. If it is the first time that you are looking for such a vaping device, the choices may confuse you. New models and various vaping tactics come into play frequently making the process of selection more confusing.
The easiest decision you can take
One step that you can take is to rely on reputed manufacturers like Elf Bar and buy their vaping pods namely Watermelon Bubblegum Disposable Pod (5000 Puffs) by Elf Bar BC5000. If you desire to buy this vaping pod, it is wise to know about its salient features. It is rechargeable, has dual coil technology, and has a 13ml capacity. The nicotine strength is 5% and it is possible to draw 5000 puffs. The primary flavor that you can enjoy is watermelon, bubblegum, and candy.
However, the market does not end here there are various designs, shapes, and tactics that you can buy. Let us have a look at some of those.
Pods look like traditional cigarettes 
People generally shift to vaping to quit smoking. So, the first pods that were available in the market looked like traditional cigarettes. It is possible to buy such now also. When you puff at such pods, it feels like you are smoking a cigarette. The shape in some way helps to quit smoking as it gives a feel of smoking.
Pods having bigger reservoirs 
You certainly desire that your pod continues to make it possible for you to vape for a longer period. If you buy Watermelon Bubblegum Disposable Pod made by Elf Bar, it would be possible to draw 5000 puffs. So, it is a variety that has bigger reservoirs than other pods available in the market. The shape may not be like a traditional cigarette but these pods will make it possible to draw more puffs.
Pods with a bigger battery 
Some pods have bigger batteries compared to other pods. There are some which can be recharged at the same time.
Modern looking pods
It is possible to buy pods that are modern to look. They do not look like traditional cigarettes. They look completely different than a cigar and if one does not know that it is a disposable pod, it would be impossible to guess. However, it contains all the features that other pods have and offers the same level of vaping experience. 
Irrespective of the type of disposable pods that you desire to buy you can depend on us at Ejuice Store. Give us a call or visit our online store to place an order or to 
add a few more same brand products
. We deal with reputed brands so, products that you have from us will be of best quality. We also make possible to have such products at an affordable price.