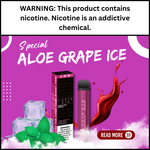 Ejuice Store is an excellent vape store that sells highly trusted brands of vape products, offering the best vaping experience. We are a premium online retailer selling premium-quality e-juices, disposable pods, and more.
There is an absolutely amazing selection of vape items, which customers compliment. In our store, you will find the trendiest flavors.
E-Juice Store offers high-quality vaping products at reasonable prices.
Enjoy vaping with unique flavors. Find unique flavours from popular brands.
Aloe Grape Ice Disposable Pod (5000 Puffs) by Lucid Air: Lucid Air's Aloe Grape Ice Disposable Pod has 5000 puffs and provides the longest-lasting experience on the market. This product is well equipped with mesh coil technology and juice made from tobacco-free nicotine. This includes a 2200-mAh battery with 5% nicotine strength. So, experience a unique blend of menthol, aloe, and grape in a single product.
There is a long list of 12 bold flavors, like:
Grapefruit Ice

Watermelon Ice

Strawberry Ice

Peach Ice, and more
There are amazing products from this brand.
There is an excellent collection to choose from.
So, get the best disposable pods, e-liquids, and salt nics for the best price. We are the one-stop solution to shopping online for quality vape items. Everything is well managed, from orders to delivery, with the goal of exceeding customers' expectations. Moreover, we are growing our business by offering the perfect vape products to our customers, and we keep bringing the most reliable products and services that are trendy in the market.
Enjoy vaping products made from fresh ingredients. The quality of the store is absolutely unmatched.
Ejuice Store is trusted by many; there are many happy customers who find our store reliable for vaping products.
We are the perfect store for authentic products. You will find premium-quality products at meagre rates. Ejuice Store is your one-stop shop for high-quality products. Our delivery is quick as well. So, add items to your cart today to place an order. We will ship your orders as soon as possible.
We update our website daily with new products as well as restocked items. Your purchase will be smooth.
Enjoy a perfect vaping experience!
Call to learn about your favourite vaping items from our store. We are excited to offer you our aloe-grape-flavoured vape product.