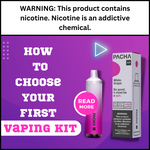 Is it that you are trying to quit smoking and intend to start vaping? If you are, you are at the right place. We at Ejuice Store would like to illuminate you on the process of selecting the first vaping kit and starting your vaping journey. 
Reasons to shift to vaping 
Many health authorities have studied vaping and many more are in the process. These researchers have identified various benefits of vaping. Let us have a look at some of those so that we can understand why it is wiser to shift to vaping than to smoking. 
According to University College London, the most effective way to quit smoking is to start vaping and have advice from stop-smoking specialists. Research conducted by Public Health England found that vaping is 95% less harmful than smoking. This is due to various reasons one being that e-juices do not have toxic substances as found in cigarettes. A 2021 report on Action on Smoking & Health said that the cost of smoking is £17 billion annually. 
So, if you are health and economic conscious it is wiser to change to vaping than to continue smoking. 
The working nature of vape kits
It may be that you have purchased White Grape Disposable Pod (3000 Puffs) by Pachamama Syn from us. Having a look at the name you can understand that it is possible to draw 3000 puffs and the pod is made by Pachamama Syn. However, there are a few other things also to note of. The primary flavors that you can enjoy while vaping using this pod are menthol, and white grape. The nicotine content is 5% and the VG/PG ratio is 50/50.
It is also wise to know the working nature of these pods. These pods come with a pre-filled tank having a particular vape juice. There is a battery which also comes charged. There at times may be a button to start the kit; however, if you do not notice such a button, you just need to draw using the mouthpiece. The pod will start to function and you will be able to enjoy your vaping experience. In this case, as you have completed drawing 3000 puffs, the pod will not work anymore and you need to change it.
 Styles of vaping pit possible to purchase 
For a beginner, it is wise to buy a pod-style vaping kit. There are various advantages to using such a vaping kit. It is light in weight, easy to carry, has no botheration of charging or filling the tank, and is convenient to vape. These are pre-filled pods; however, it is possible to have refillable pod kits. You can also buy pen-style vape kits and enjoy vaping.
However, whatever style of vaping kit you buy it is wise to have one manufactured by reputed manufacturers. If you are at our store, it is possible to 
add a few more same brand products
 to enjoy vaping. We ensure that you get those at a competitive price and without any delay.