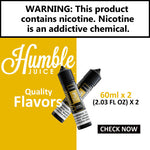 Taste is subjective, so one cannot define an e-juice best over another. Also called vape juice, and e-juice comprises five ingredients, including nicotine, propylene glycol, flavoring, vegetable glycerin, and water.
The essential things to look for when choosing a new e-juice, besides its price, are PG/VG ratio, quality of ingredients, reputed vendor, with the factor of enjoying the taste and overall vape experience. Premium e-juices tend to leave a nice aftertaste and are well blended with good taste and flavor.
At EJuiceStore, you will find a wide assortment of vape liquids available in an extensive range of flavor and strength options. From lemon flavor cake to coffee-based desserts to delicious apple pie, we have everything one could ever imagine. You will find some of the most popular e-juice vapes, including
Cereal & Milk by V'Nilla 60ml, and more.
Best E-Liquid Flavors
There are thousands of e-liquids with unlimited flavor combinations. So, picking one may seem quite overwhelming. If you are wondering about the best vape juice, take a look at our top five picks, as we have something for every vaper.
Strawberry by Jam Monster 100ml
This vape juice has the taste of ripe strawberry jam vape juice with creamy butter notes on delectable crunchy toast. It has all the flavors well-balanced and is sure to please every strawberry lover in search of good all-day vapes.
Pros:
It contains the flavors of creamy butter, toast, and strawberry jam
It makes for a good all day vape
100ml Unicorn Bottle - (75% VG / 25% PG)
Cherry Blue Cola by Juice Man 100ml
If you have ever loved Cherry Lime Cola by Juice Man, there is no telling how you are going to feel about Cherry Blue Cola. This delectable e-juice is an exciting blend of sweet and tart blue raspberries, mixed in an original cherry cola blend. It contains flavors that have the best of all worlds.
Pros:
It has the flavors of Cherry, Blueberry, and Cola
It has nicotine levels of 0mg, 3mg, 6mg, 12mg
It has VG/PG Ratio - 70/30
Unicorn Frappé by Juice Man 100ml
This delicious cotton candy vape juice is infused with blue raspberries, mangoes, and a coat of whipped cream. While inhaling this vape, you are sure to get a mouthwatering attack of fruit. This vape has a pleasing amalgamation of sweet mangoes, tart raspberries, and is blended well to satisfy every taste bud. The exhale is where the real magic happens, with fantastic fruit flavor pairing perfectly with cotton candy and creamy and sugary whipped cream.
Cherry Blue Cola by Juice Man 100ml
100ml bottle of delightful vape juice
A satisfyingly sweet, smooth exhale
Simply sensational!
Wild Watermelon Lemonade by Lemon Twist 120ml (2x60ml)
This ejuice is a delicious fusion of juicy watermelon with refreshing flavored lemonade. The flavors of ripe watermelon and natural lemon are blended for a perfectly sweet taste that vapers won't forget anytime soon.
Pros:
A fresh and bursting flavor profile
120ml Unicorn Bottle - (70% VG / 30% PG)
120ml in two 60ml unicorn bottles
Right Cheek by Banana Butt 120ml (2x60ml)
Right Cheek is the top-notch vape juice from Banana Butt. It contains a delicious blend of a fresh baked oatmeal cookie and creamy banana pie. Upon inhaling, you will get the flavorful creamy banana and a smooth oatmeal cookie upon exhaling. It's a sweet, flavor-rich juice that provides a superior vape experience.
Pros:
It has a sweet banana bread smell
It's for an all-day-vape candidate
Visit
ejuicestore.com
for more!