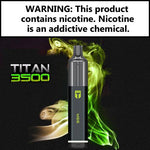 There is no wonder saying that vaporizers are getting popular day by day. They provide a safer and healthier alternative to smoking and dab rigs. Though there are many types of vaporizers available in the market, disposable vape pods or disposable vape pens are more preferred taking to their numerous advantages.
More vapers are finding that disposables provide them with everything they need to enjoy a deep, satisfying vape hobby. They are pocket-friendly, easy to use, and satisfy vapers' needs profoundly, and thanks to their combination of delicious flavors and smooth yet potent salt-based nicotine.
Whether you are a beginner or vaping veteran picking up some easy-to-use portable pods, you will find what you are looking for with us. We carry all the leading disposable vape pods including
From tempting fruit to traditional tobacco flavors, there is a disposable option for every palate, lifestyle, and vaping preference.
Another bonus is that these disposable pods offer a remarkably similar experience to smoking. While many experienced vapers opting for customizable vape options, disposable pods will play an important role in the transition from smoking to vaping.
With disposable vapes starting to become a massively popular trend within the vaping world, you may be confused about what makes them so unique and beneficial. We will discuss how these pods can be beneficial in enhancing your vaping lifestyle.
Enjoy a wide range of different flavors
Traditional cigarettes or tobacco are known to release bad odors whenever a person smokes. This unappealing smell is disturbing not only for their families but also the people around them. Sometimes the odor stays and prevails for quite a long time. And for the people around, the smell is nauseating. The best option here is to turn to the best alternatives like the vape pods such as arctic mint disposable pod (3500 Puffs), lychee ice disposable vape pod by HQD V2, mango disposable pod by Puff Bar, etc. The vape pods are available quite in several different flavors, allowing vapers to enjoy the sweet smell even while and after vaping. Vapers can also shop for an array of dessert or menthol flavors to enhance their taste.
Cost-effective
The disposable vape pods are generally more affordable than traditional cigarettes. While people tend to refrain from buying it after seeing the initial cost, but in the long run, the pods are cost-effective when compared to cigarettes. People can choose to save their life along with their hard-earned money by choosing these vaping systems.
Less amount of nicotine
As compared to the traditional cigarettes there is much less percentage of nicotine blend in the vaping pod. All the traditional cigarettes contain a specific tobacco percentage that a person consumes every time he/she smokes. However, the best part of vaping pod is that it allows people to control their nicotine intake. Besides, people can also choose the blend, flavors as per their preferences. There are no strict rules for this.
These are the top advantages of disposable vape pods. A vape pen is a much safer option unlike other smoking options and providing the same utility. That's the reason why they are so popular and selling in huge quantities worldwide. Make sure to buy good-quality vaping pods and enjoy the thrills of the best vaping experience.