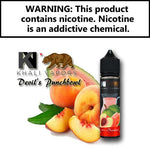 Which vape juice type to go with? This is a common question but can rarely be answered for you. Choosing an e-liquid is always a personal choice. The two most primary factors to consider when choosing are your budget and your needs. And after that - the look and size of the device. If a big bulky device does not fit in your lifestyle, you can effectively rule out half of your options.
There are thousands of vape juice flavors available on the internet today. But we at EJuice Store, offer our customers only the most sought-after from the highest quality premium brands. Our selection is made up of the best vape juice flavors like Air Factory, Berryfornia, Cuttwood, Crisp, Lemon Twist, and more. This ensures the best flavor, smoothness, consistency, and vape-ability.
There are three main types of vape juice:
High PG Juice: Ejuice high in propylene glycol (PG) is great for a strong throat hit. It is sometimes called 50/50 PG/VG.
High VG Juice: Ejuices high in vegetable glycerine (VG) are best for creating big clouds with high-power devices.
Nicotine Salts: Salts are high nicotine levels that are suitable for small devices and pod systems.
We hold the most popular vape juice flavor categories, including:
Dessert
Candy
Fruit
Pods
Nicotine Salts
At EJuice Store, we carry products from popular vape juice brands. Our ejuices contain hand-picked ingredients that provide the most sophisticated palates with exquisite flavor.
When it comes to buying an ejuice, the first thing you should consider is, of course, its taste. However, several other factors may affect your vaping experience. Apart from a wide range of vape juice flavors, we advise you to also focus upon -
Strength Level: If you are willing to achieve the desired throat hit, do consider the nicotine amount. You can start with your desired strength level and then reduce it down gradually.
PG/VG Ratio: The PG and VG ratio is of utmost importance for vapers. If you are a cloud chaser, we recommend you ejuices with high VG. Contrary to it, juices with higher PG provides better throat hit and pronounced flavor. Depending on your preferences, you will find an ideal mix of both solutions with us.
SOME OF OUR BEST EJUICE FLAVORS
Devil's Punchbowl by Khali Vapors 60ml
This ejuice has an exotic combination of Asian guava with sweet juicy peaches. This satisfying tropical e-liquid is sure to delight your palate and give you a great vape experience by producing rich vapor clouds.
Other details:
Primary Flavors - Guava and Peach
Nicotine Level - 0mg, 3mg, 6mg
Brand: Khali Vapors
VG/PG Ratio - 70/30
This e-liquid is going to be your new vape juice of choice. If sugary and tart candies always excite your taste buds, then this vape juice is for you. Upon inhaling, you will feel a powerful dose of sour watermelon flavor that will instantly excite your taste bud. And upon exhaling, the flavor of candy sugar will deliver pure happiness to your sweet tooth.
Other details:
Primary Flavors - Watermelon and Sugar Candy
Nicotine Level - 0mg, 3mg, 6mg
Brand - Lemon Twist
VG/PG Ratio - 70/30
Crisp Menthol by Naked 100 Menthol 60ml
The ejuice is perfect for menthol aficionados. This will energize you with its refreshing storm of super cool mint and extra cold flavors. The sensation of chilly, smooth menthol might just become your new go-to menthol.
Other details:
Primary Flavors - Menthol and Mint
Nicotine Level - 0mg, 3mg, 6mg, 12mg
Brand - Naked 100 Menthol
VG/PG Ratio - 70/30
Shop for a wide range of ejuice by brand and size at
ejuicestore.com
today!