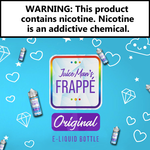 Interested in vaping? Why not fill your device with the most delicious vape juice? At EJuice Store, we are here to help!
EJuice Store realizes the role of high-quality e-liquids in the sheer pleasure you get from vaping. It should always provide the ideal mix of throat hit, taste, and vapor clouds so that you can indulge yourself in the feeling of thrill and excitement when taking a drag. It is also about the diversity of flavors, allowing vapers to change them as soon as they have enough of the previous ones.
At our online store, we offer customers an extensive assortment of vape juices which are available in a myriad of flavor and strength options. Although all of them are completely different, they produce the same astonishing effects.
From coffee-based desserts to mouth-watering apple pie and the sour sweetness of Frappe by Juice Man 100ml - our catalog includes everything you could ever imagine. At EJuice Store, you will find products from the most popular vape juice brands, including Juice Man, Alcovape, Burst Duo, Ice Monster, Jam Monster, Sweet and Fruity, Crisp Salts, and many more others. These manufacturers use hand-picked ingredients to provide the most sophisticated palates with exquisite flavor.
With so many brands available, if you still have mixed opinions regarding vaping, here we are going to provide you a brief detail on some of the most prominent benefits of vaping.
No Tasty Odors: The major benefit of vaping is that it keeps the environment smoke-free. The vape juice emits a sweet smell instead of the odor of dead leaves of tobacco. As per most of the vapers, the smell is barely noticeable. And you will also praise the aroma of our Frappe by Juice Man 100ml.
Safer Than Smoking: Vaping is always safer than smoking. As per research, the vaping product is 95% safer than the regular cigarettes you smoke. Since no combustion is involved, switching to this e-cigarette can help you enjoy a smoke-free alternative. So, you can enjoy better skin health, oral hygiene, and lung capacity.
Flavors: As far as flavors are concerned, you have several options to choose from. Also, more and more flavors get introduced with time. Therefore, you will never run out of options. Some popular ones include desserts, fruit, beverages, methanol, and food, to name a few.
Controlled Nicotine Intake: Vaping allows you to have complete control over the nicotine dosage. You can find e-juice in different strengths, such as high-level nicotine or no nicotine at all. Based on your personal preferences, you can choose the right one. Many users mostly opt for high nicotine levels and go from there.
Instant Satisfaction: With vape juices, you can enjoy instant satisfaction. Many vape units come pre-filled and can be used right away while other high-end vapes require tinkering for a while. As soon as the vape is all set, you can take a hit just by pushing the button.
When it is about choosing the right vape juice, the first thing you need to consider is its taste. However, many other factors may affect your vaping experience. Apart from an extensive range of vape juice options, at EJuice Store, we also provide you with a few more options to choose from including strength level and PG/VG ratio.
Visit our online store today.