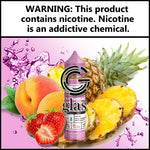 Are you looking to enjoy truly tropical bliss on your next vape? Why don't you buy the Caribbean Punch vape juice by Glas Basix Series! This vape juice gives you the intoxicating vibe of the islands. With a perfect blend of succulent peach, mouthwatering pineapple, refreshing apples, sweet flavored strawberry and a hint of apricot, this ejuice allows you enjoy tropical delight.
The Caribbean Punch vape juice comes in a 60ml bottle giving you a delicious blend of fruits. This ejuice satisfies the vaping thirst like no other. The ejuice brings in apples, peaches, apricots, strawberries, and pineapples altogether to saturate your vaping palate. This luscious fruit-filled vape comes with intensely succulent finish. It will remind you of your favorite fruit punch beverage from back in the day.
On the inhale, get ready to embrace the tanginess from the strawberry, peach and pineapple. It will give you a quiver sensation to your taste buds. The pure apple unleashes the crisp notes that will soothe your vape thirst. After that, the apricot stream goes over the palate and you will enjoy sugary sweetness on the exhale.
The Caribbean Punch vape juice is available in a medium size bottle along with a 70/30 VG/PG base. Whether you're looking for large clouds or fruity and flavored throat hits, this vape juice will allow you enjoy vaping in the most blissful and tropical way as possible.
With a unique blend of tropical fruits, the Glas Basix Caribbean Punch E-Liquid has juiciness of peaches carefully combined with sweet pineapples and succulent strawberries. While vaping, you'll take advantage of a burst of tropical fruity goodness. This ultimate tropical punch flavor gives you a feeling like you're relaxing on a tropical island. The unique blend of delectable fruits is packed into a bottle of flavored goodness.
So, it's time to plan a trip to a tropical paradise that you always want through Caribbean Punch vape juice by Glas Basix Series. You will enjoy the tantalizing combination of succulent peaches, golden pineapples, sun-ripened strawberries, crispy apples, and savory apricots.
This complex and layered flavor profile has the most delicious tropical fruits that deliver an extremely exhilarating vaping experience. The Caribbean Punch vape juice will awaken your senses for sure. The enticing fragrance of vape is sure to provide you with mouthwatering experience. You'll anticipate the pure tropical delight every time you vape this ejuice. After vaping, you'll know why Glas Basix Series Caribbean Punch vape juice has famed as a top-selling gourmet premium vape juice flavor around the world.
You should definitely try out this vape juice flavor today and get ready to be amazed by the refreshing experience you'll get after taking a couple of pulls of this flavored vape juice delight. If you're looking to buy Caribbean Punch vape juice by Glas Basix Series, you should choose no other than Ejuice Store. Shop for your favorite vape flavor and get the ultimate tropical experience in the best way as possible.