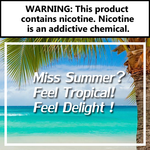 While vape flavors are crafted for all seasons, there are a few vape juice flavors that hit the spot perfectly during summer. These flavorsome delights transport you to the tropical islands where you love to spend summer holidays while taking a sip of your favorite juice. Just like with meals and drinks, your favorite vape juice flavor changes with the mood and the weather. Vaping makes evey season special.
Summer is no doubt an ideal time to try your favorite vape as you spend a lot of time outdoors during this time. And you will be glad to know that there are plenty of vape juice flavors that are perfect for summer season. Feeling overwhelmed with the choices? Do not worry! We at E Juice Store have brought you some of the best and most delicious summer vape delights for you below. Although we carry a myriad of options, the following are our best-sellers!
Strawberry Watermelon Vape Juice by Candy King
Strawberry Watermelon Vape Juice is a delectable rendition of your favorite strawberry-watermelon flavored bubblegum.  This Strawberry Watermelon vape juice offers a slice of a rich summertime smile paired with a fresh batch of juicy strawberries. Get indulged in the vivid flavor of fruity strawberries initially and exhale the watermelon flavor that smoothens over the strawberry with a sweet bubblegum finish.
Pink Punch Lemonade by Lemon
Pink Punch Lemonade vape juice is fruity punch flavor mixed with tart lemonade by Lemon Twist. Relish the fruity punch flavor during the inhale with overtones of sugary lemons. And on the exhale experience the refreshing lemonade with sweet notes of red fruit punch that will give you the feel of the beautiful summer sunset.
Blueberry Raspberry Lemon by Fruit Monster
Blueberry Raspberry Lemon is a refreshing and scrumptious burst of flavor that revitalizes your taste buds like a appetizing smoothie on a summer day. On the inhale, crisp blueberry tingles on each taste bud as its sugary taste sends you off to paradise. The raspberry and lemon give you that tangy and sweet flavor that lifts your spirits.
Peach'N by One Up Vapor Rivals
Peach'N  offers an explosion of summer ripe peach and other hidden fruit components to leave your mouth watery. Try this vape flavor out and you will be peachi-fied!
Jaws was crafted to taste exactly like those addicting candies. Sweet blueberry gummy with a creamy vanilla offers you a myriad of flavors as you chew now liquefied for pure enjoyment without the cavities. You will get an abundant cloud of vapor with just one hit that holds every last drop of flavor you could possibly imagine. Sweet and tart blueberry gushing in fusing with light tones of vanilla as you inhale. When you go to exhale the flavor just sticks to your tongue like glue so it lasts a little longer in your mouth leaving you to feel like you just ate the actual candy itself.
We have variety of other summer delight vape juice options with us! Browse our online store to discover more.