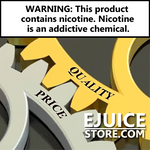 Want to try out vaping? But you think vaping is costly? That is why; you are stuck and unable to decide whether to go the vape way or not! Then we at E Juice Store can assure you that vaping isn't as costly as you think. We carry a wide collection of vape juices by top manufacturers that are not just of the best quality but are budget friendly. Among the various vape juices we have in our inventory, Skwezed vape juice proves that quality e juice doesn't cost an arm and a leg! Skwezed vape juice is co-packed by one of the largest e juice manufacturer in the USA. And you can discover a range a delightful fruity flavors that will make you fall in love with it.
Check out the flavors from the house of Skwezed we carry with us at E Juice Store in our online store below:
Green Apple Vape Juice
Green Apple Vape Juice  by Skwezed incorporates the refreshing taste of green apples as if they came from the orchard and were squeezed for every drop of scrumptiousness. Green Apple  vape juice delivers slightly sour flavor with that perfect crisp crunch and a juicy bite. If you want to relish authentic green apple flavor then go for it.
Skwezed Watermelon vape juice is a blend of juicy ripe watermelon slices and organic taste which makes it a perfect summer delight to enjoy. Take a bite into a big wedge of sweet juicy watermelon on a hot summer afternoon with this vape juice. It offers a pure and sweet watermelon flavor that stimulates your taste buds while satisfying with sheer refreshment. Skwezed Watermelon comes with natural, pragmatic organic watermelon flavor that will knock your hats off.
Want to relish the authentic flavor of the king of fruits, Mango? Then Mango vape juice by Skwezed is the perfect choice for you. Imagine hanging out on a tropical island and sitting next to you is a yellow and red fruit giving off a distinctive fragrant aroma.  Skwezed mango is a sweet and tangy fruit that freshly dropped off of the trees they were hanging from. 
Lychee vape juice by Skwezed offers the same relaxing feeling of complete and total content with its fresh, genuine tropical Lychee flavor. Exotic, bright and completely care free. Get indulged in the vacation feeling with this amazing vape juice.
Grape Fruit vape juice  comes with a tangy, sour and subtle sweetness of a pink grapefruit that invades your vape space. Take your clouds to new levels with a rich and potent flavor profile that waters the mouth with every puff you take.
Peach vape juice delivers an exceptional flavor experience that is worth your wicks and the firing of those coils. Skwezed squeezes the fresh juice, picked right off of the tree and brings it to you with its authentic flavor.
So if you are a fruit fanatic then Skwezed vape juices will make your vape experience splendid and refreshing. Explore more with us!