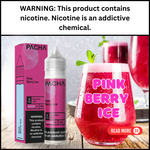 When you want an exhilarating vaping experience, you should look no further than Pink Berry Ice E-Liquid by Pachamama 60ml. Available in a 60 mL bottle; this vape juice blend combines the tantalizing sweetness of pink berries with an icy crispness that will completely take your breath away.
Meticulously crafted by Pachamama, the Pink Berry Ice E-Liquid offers a perfect combination of flavors that will dance on your palate with every puff. Get ready to enjoy your vape game with this frosty fruit masterpiece, and let the Pink Berry Ice E-Liquid become your go-to choice for a refreshing and invigorating vaping experience.
A Burst of Delectable Flavor
The Pink Berry Ice E-Liquid comes with a delightful blend of sweet pink berries, perfectly balanced with the icy freshness. Each puff gives you a harmonious blend of flavors, intertwining the luscious sweetness of berries along with a cool, crisp breeze that will awaken your senses.
Pachamama has extensive experience and expertise in crafting e-liquids that shine through in this unique concoction. That's why the Pink Berry Ice vape juice delivers an exceptional and unforgettable vaping experience.
Frosty Fruit Refreshment
What about taking a stroll through an arctic landscape and seeing how nature unveils its icy wonders? The Pachamama's Pink Berry Ice vape juice allows you to indulge in the same refreshing, frosty fruitiness without leaving your comfort zone.
The chilling breeze of the ice takes the flavorful burst of the sweet pink berries to a whole new level which creates a refreshing vape that will invigorate your taste buds and cool you down even during the hottest summer. Whether you're an avid vaper or new to the world of vaping, the Pink Berry Ice is a must-try flavor that will captivate and delight your taste buds.
Crafted by Pachamama
Pachamama is well-known for its dedication to crafting premium e-liquids inspired by natural wonders and has outdone itself with the Pink Berry Ice vape juice. As a reputable brand in the vaping industry, Pachamama is committed to providing top-quality products and its excellence is evident in every aspect of this e-liquid. From the accurate balance of flavors to the smoothness of every inhale, the vape juice is a testament to the artistry and mastery of Pachamama in the craft of e-liquid creation.
Enjoy Your Vape Game
Do you want to turn your vaping routine into an extraordinary Arctic adventure? If yes, then why don't you make it with the Pink Berry Ice E-Liquid? With the refreshing, icy twist on the classic sweetness of pink berries, it will make you come back again and again.
Whether you want to add a new favorite to your collection or need an exciting flavor to liven up your vape experience, you should choose no other than the Pink Berry Ice vape liquid by Pachamama.
Final Conclusion -
Do you want to embark on an Arctic adventure? If yes, then you should shop for Pink Berry Ice by Pachamama from Ejuice Store. This 60 mL bottle of pure delight combines the sweet essence of pink berries with a breathtaking icy freshness that will mesmerize your senses. Enjoy your vape game and add the Pink Berry Ice to your Ejuice Store cart now. Let the e-liquid take you on a journey to the icy wonderland of frosty fruitiness with every puff.