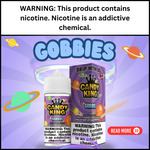 Are you a menthol-loving vaper in search of a new and refreshing e-liquid flavor to invigorate your senses? Look no further than Gobbies by Candy King! This premium vape juice offers a perfect blend of cool, crisp mint leaves that will take your vaping experience to new heights.
The Allure of Gobbies: Cool, Crisp Mint Leaves
At the heart of Gobbies is the alluring blend of cool, crisp mint leaves. The moment you inhale, a wave of refreshing mint envelopes your taste buds, awakening your senses. Unlike some overpowering mint flavors on the market, Gobbies boasts a well-balanced profile, allowing the natural sweetness of mint to shine through. It's an ideal choice for vapers who prefer a smoother and more nuanced menthol experience.
The Art of Premium Ingredients
Gobbies by Candy King 100ml doesn't cut corners when it comes to ingredients. Only the highest quality components find their way into each bottle, ensuring a satisfying vaping experience with every puff. The premium ingredients contribute to the smoothness and richness of the flavor, making it an excellent choice for those who seek a more refined taste.
VG/PG Ratio: The Perfect Harmony
Achieving the right VG/PG ratio is crucial for any e-liquid, and Gobbies strikes the perfect balance with a 70/30 VG/PG ratio. The higher VG content ensures ample vapor production, creating impressive clouds without compromising on flavor. Meanwhile, the 30% PG keeps the flavor crisp and the throat hit satisfying, making it an excellent all-day vape for both cloud chasers and flavor enthusiasts.
Nicotine Levels to Suit Your Preference
Gobbies caters to vapers with varying nicotine preferences, offering nicotine levels of 0mg, 3mg, and 6mg. Whether you're trying to cut down on nicotine or prefer a more moderate hit, you have the flexibility to choose the perfect nicotine strength that complements your vaping style.
Conclusion
In conclusion, Gobbies by Candy King 100ml stands tall as a premium menthol e-liquid that excels in every aspect. From the refreshing blend of mint leaves to the use of high-quality ingredients and a meticulously crafted VG/PG ratio, this e-liquid delivers an unparalleled vaping experience. If you're a menthol enthusiast looking to try something new, Gobbies is a must-try that won't disappoint. So, grab your vape device and immerse yourself in the cool, crisp embrace of Gobbies by Candy King!