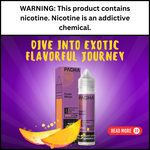 Do you want to enjoy an exceptional vaping experience? If yes, then why don't you choose Purple Mango by Pachamama 60ml? It makes a truly extraordinary blend that showcases the rare and authentic flavor of purple mango.
You will go on a flavorful journey of unique tastes as this delicious vape juice unleashes the sourness and slight sweetness that will captivate your taste buds throughout the day. Please check this blog and know why this savory and sweet vape blend deserves a spot in your all-day vape collection:
Unveiling the True Magic of Purple Mango Vape Juice
Purple Mango by Pachamama 60ml takes inspiration from one of the rarest varieties of mangoes i.e. the elusive purple mango. You might have never heard of this unique mango type.
But Pachamama has expertly recreated its flavor in vape juice form. As a result, this vape juice makes a delightful mix that exceptionally combines sourness and sweetness. This vape juice flavor will give you an authentic and unforgettable vaping experience. So, it's time to unveil its magic while savoring each puff of Pachamama vape juice and exploring the depths of this rare and exotic flavor.
Embracing Pachamama's Vaping Legacy
Pachamama has set a benchmark as an industry-leading vape brand for its exceptional collection of flavorful delights. From tasty dessert flavors to juicy fruits and refreshing menthol vape juices, Pachamama has mastered the art of crafting award-winning vape blends. Passionate about crafting premium-standard vape juices, Pachamama has become an iconic name in the vaping industry.
Exploring the Exotic Taste of Purple Mango
Are you craving something different? And do you want to choose something different from the usual one? Then, Purple Mango by Pachamama 60ml is the perfect choice. This unique flavor with its savory taste offers an experience that you will love enjoying again and again.
Take this opportunity to immerse in the perfect blend of sourness and sweetness, and let the magic of this rare purple mango flavor relish your taste buds. With its unparalleled blend of flavors, Purple Mango has the potential to become a staple in your all-day vape collection. It can be ideal for those special moments when you seek something truly exceptional.
Final Conclusion -
Get yourself prepared to start your vaping journey with Purple Mango vape juice by Pachamama 60ml. This extraordinary blend captures the true essence of the elusive purple mango flavor that offers a unique combination of sourness and sweetness.
Now it's time to experience the allure of the rare and authentic purple mango flavor when you indulge in the flavorful vape that Purple Mango by Pachamama has to offer. With its captivating taste and satisfying flavor profile, this exquisitely crafted blend will become one of your favorite vapes for sure.
You should embark on an enchanting journey of exceptional tastes, and make Purple Mango a cherished addition to the all-day vape collection. Get ready to explore the exotic flavor and dive into the world of Purple Mango by Pachamama.