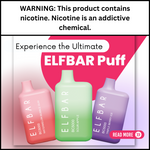 Shop for a perfect tart flavour that is loved by many customers. Ejuice Store is a fantastic leading retailer of vape products such as premium e-juices, disposable pods, and other items. Our store is popular because we offer the hottest brands of vape items at extremely low prices.
Shopping for vape products is easy as there is an E-Juice Store.
So, take a look at this very interesting disposable pod. This tangy flavour of green apples will become your favourite disposable pod to buy. This is an easy-to-use device with a unique design. Shop this product soon to enjoy the experience it provides. This device offers a pure experience of flavours as it includes a dual coil.
Sour Apple Disposable Pod (5000 Puffs) by Elf Bar BC5000: Moreover, the contrasting colours of the device offer unique enjoyment. It will become your go-to vape item.
This device is rechargeable. It includes dual coil technology.
This unique flavour of disposable pod includes 5000 puffs per device. Green apple and candy are the primary flavours of this product. It is manufactured by a well-known manufacturer. So, enjoy a smooth buying experience for your favourite items from the E-Juice Store. This flavour of green apples will offer you a very awesome vaping experience. There are authentic flavours available. We only provide genuine, high-quality products.
So, take a look at some more amazing flavours available at the E-Juice Store.
There is an amazing collection of flavors; explore to learn more. So, add them to your cart to place an order for the best-quality vape products.
With E-Juice Store, you can enjoy vaping unique flavors. There is an experienced customer service team available from Monday to Friday. We guarantee a pleasant shopping experience for vape products.
E-Juice Store evolves over time to meet customer expectations. Ejuice Store is a specialised online vape store to rely on.