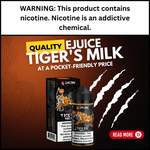 Do you want to try out vaping? Do you think vaping is costly? You are probably stuck and unable to decide whether to go the vape way or not! Vaping isn't as expensive as you might believe, we at E Juice Store can assure you of that. We carry a wide collection of vape juices at our online vape store. We have got the best quality vape juice from top manufacturers. Most of the e-liquid products in our online vape store are not just of the best quality but are budget-friendly. 
Among the various vape juices we have in our inventory, Tiger's Milk by Shijin Vapor 100ml vape juice doesn't cost an arm and a leg! Tiger's Milk 100ml is produced by Shijin Vapor- one of the largest e-juice manufacturers in the USA. And you can discover a range of delightful fruity flavors that will make you fall in love with it. Its deep and strong flavor profile drenches the lips with each puff. It will take your clouds to new heights.
This vape juice presents an everlasting & memorable infusion of Peaches and mangoes perfectly infused to create a delicious slushy treat. Available with an 85% VG and 15% VG ratio Tiger's Milk by Shijin Vapor 100ml is the perfect vape juice to add to your e-liquid collection. Starting from a humble beginning Tortoise Blood quickly become one of the leading fruit flavors available at our online vape store. It is a 100 ml bottle with 0mg, 3mg, and 6mg nicotine concentrations. It produces a revolutionary vaping experience. The balanced flavor profile of this e-juice makes it perfect for all-day vaping. A lusciously authentic Peaches flavor, & juicy taste of real tropical mangos creates a refreshingly fruity vape experience. It is perfect for vaping all day! Anyone looking for a nice refreshing fruit flavor should give this e-juice a try. 
Check out the flavors from the house of Shijin Vapor we carry with us at our online vape store below:
Dragon Cloud by Shijin Vapor 100ml
If you are looking for a refreshing sweetness from the frosting and the creaminess from the vanilla ice cream then you must give Dragon Cloud by Shijin Vapor 100ml a try. It is the perfect juice for vapers' who enjoy vaping the sweetness, creaminess of vanilla ice cream. It has all the qualities to become your new go-to vape juice. 
Phoenix Tears by Shijin Vapor 100ml
Phoenix Tears by Shijin Vapor 100ml is a masterpiece product. It is a concoction of Strawberry, Vanilla, Custard, and Sugar Cookies which make water come from your mouth. When you inhale it, you can immediately enjoy a bold and complex juice flavor. Anyone who enjoys strawberry, custard, and sugar cookies will find them appealing. If you are looking for a perfect all-day vape this e-liquid is worth trying. Available in 0mg, 3mg, and 6mg nicotine levels, and an 85/15 VG/PG Ratio, this e-juice is a must-have in your vape collection.
There are many other flavors by Shijin Vapor and many other top vape juice manufacturers that we carry in our inventory. If you are looking for a heavy vape juice that has excellent flavor & cloud production, Tiger's Milk by Shijin Vapor 100ml is worth a try. It is a unique e-juice mixed with juicy mango, Peach, & Slushy. It is incredibly delicious when you inhale it. If you want to relish more flavors, browse our website today. Explore more with us!