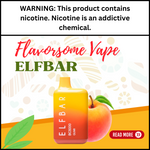 Looking for a disposable vape that offers delectable flavors along with high-quality vaping experience? We at E Juice Store is one of the most trustworthy online vape stores would suggest you give a try to Elf Bar BC5000. Did you know that Elf Bar BC5000 has been voted as the most popular disposable vape in 2022? The primary reason behind its popularity was its high-performing rechargeable vaping solution along with 45 different flavors to choose from. 
Among the various flavors Gumi disposable vape was one of the best-sellers. The Elf Bar Gumi disposable vape brings you a sweet and citrusy flavor which is quite similar to a peach dessert. Also the added pinch of sourness helps in balancing out the sweetness and makes a delicious flavor. It is definitely a unique flavor which you must give a try!
If you are looking for a simple way to relish your favorite flavors without any mess or traditional vaping equipment, then the Elf Bar disposable vape could be exactly what you are looking for. The flavors by Elf Bar feature top-tier ingredients that are combined with unique and bold flavor combinations which you cannot find anywhere on the market. The flavors are designed in such a manner that even the most judicious taste buds will fall in love with them. 
Elf Bar - The Brand
Elf Bar disposable vape is a brand that is highly dedicated and committed to providing its customers with exceptionally innovative and high quality products that are a healthier option to try. Since 2018, Elf Bar is striving to develop smart heating systems along with the attempt to create natural based flavors and a healthier vaping experience. With a number of experiments and research, the brand succeeded to make a reputation in the vaping industry for offering the highest quality products that contain the least harmful materials, pure delicious taste and sophisticated design.
Apart from that Elf Bar has also succeeded in becoming a trustworthy name in the vaping world. Vapers of all kinds have also loved the flavors of this brand. The brand not only creates nicotine salt liquids and disposable vaping products but also invests time, money and resources into incorporating new technologies into their vaping products. The disposable vape devices by Elf Bar are the best choice for vapers looking for a flavorsome way to take delight in their nicotine fix.
If you too are someone looking to get indulged in the flavorsome journey of vaping to quit smoking, then visit our online vape store to explore more such amazing vape products to try. We at E Juice Store wish you a happy vaping experience!