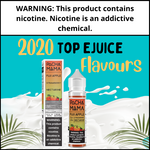 Vaping is an activity that's enjoyed by people from all walks of life. With so many options out there, there's a flavor for everyone. Whether you're looking for something fruity or something with a dessert-like taste, there are thousands of eliquids out there that will satisfy your needs. You can also find some ejuices that have been infused with other treats, such as chocolate or mint, to give your vaping experience a little more flavor.
Listed below are some of the top ejuice flavours you want to try out in 2022:
OGB (Slotter Pop OGB) by Lost Art 100ml:
Lost Art Liquids is proud to introduce OGB, an E-Liquid reminiscent of a blue raspberry and orange sweet but sour candy that came in a push stick.Juicy blue raspberry flavor with a hint of orange is back! Lost Art Liquids OGB e-liquid is an amazing combination of the sweet and sour taste of blue raspberry and orange. This nostalgic flavor will take you back to your childhood days when candy was king!
Fuji Apple Strawberry Nectarine by Pachamama:
Pachamama is a brand that is been widely praised for their juice, and Fuji Apple Strawberry Nectarine is one of their best flavors. It combines apple, strawberry, and nectarine, three of the best fruits for e-liquid. It's sweet but not too sweet, and the flavor is delicious.
Mother's Milk by Suicide Bunny:
Suicide Bunny, one of the most popular brands in the industry, is proud to announce the release of Mother's Milk, a rich, creamy and smooth custardy dessert flavor with sweet strawberry on the exhale (with some vapers also picking up touches of spice) that has been a runaway success with vapers. This new line extension is an 80% VG blend with nicotine levels of 0mg, 3mg, 6mg and 12mg.
Naked 100 has a long list of top-notch e-liquids, but Hawaiian Pog is one of the best. This blend of pineapple, orange and guava is slightly tart, but it's balanced out by the sweetness from the fruit. It's the perfect option for someone who loves a fruity flavor but gets bored with the standard options.
To buy vape juice flavours of the highest quality, look no further than ejuicestore.com. We have got vape juice from some top brands and manufacturers. We have wholesale prices for all of our products. All of our flavors are pre-steeped and ready to vape. Our supply is always in stock and ready to ship.