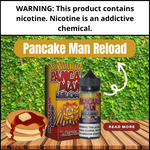 Welcome to Ejuice Store, the leading dealer of vape products. We sell quality products at very affordable rates. As always, we have brought unique vape flavored items for you. 
Do you love pancakes? So, have you ever thought that you can experience pancakes in vape products? No? Here is where Ejuice Store wins the heart. We try to bring unique quality flavors to our customers every time. We want our customers to enjoy every possible luscious flavor that can become their favorite. This time a vape that is delicious and unique is here, give it a try sure. You will love it for sure. 
We guarantee fresh products. 
Pancake Man Reload By Vape Breakfast Classics 120ml: Ejuice Store, a reliable online vape store has brought an original delicious, and explosive flavor. 
If you are into pancakes very much then this vape product is perfect for you. The buttermilk pancakes blended with cookie butter and maple syrup create a vape experience that is different from others. This blend is truly a delicious blend for sure and won't leave you disappointed. 
Many customers loved this blend a lot. 
The primary flavors include pancake, cookie, butter, maple, and syrup. It is manufactured by Virtue Vape. The VG/PG ratio includes 80/20. The nicotine level is 0mg, 3mg, and 6mg. Just give this pancake blended vape product from the brand Vape Breakfast Classics.
We have a very broad range of products. In every category, there are a very good number of options available. We have ejuices, salt nics, and disposable pods. You can choose by brand or by size. If you have any queries about our products feel free to contact us. We will be addressing your questions very immediately. Our team is well knowledgeable, they will be answering your call. 
Our store sells the best products and there are many happy regular customers with us who choose us every time for buying their vape products. 
The other items to give a try - 
Strawberry Coconut Pineapple - There are many flavors available
Apple Pear Kiwi - This ejuice has a very perfect blend of fresh fruits. 
O. M by Nude - This ejuice is a blend of pineapple, orange, and mango. 

R. S by Nude - It is one of the latest ejuice creations having blueberries, raspberries, and strawberries. 
All products at our store are a must to try. Add your favorite products to your cart and enjoy trying them after a quick delivery. 
We are a premium online retailer to trust for vape products. Our customer support team is available from Monday to Saturday. They will be answering your queries. 
Each product here is 100% genuine. You can completely trust. 
We regularly update our site, ensuring customers know about sales, new products, etc. 
Shop today!