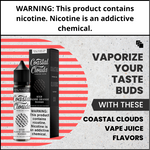 Coastal Clouds Premium Vapor is a well-known player in the vape game with tons of exciting and different flavors. They come in black matte bottles with pretty cool labels that contain all the information one would ever know about the company and juice.
Popular among all candy and fruit lovers, this vape juice will make your taste buds geek out in a lovable nerdy way!
So, without waiting any more, let's talk about the vape juice flavors that are sure to be your next favorite!
Coastal Clouds Tropical Lemonade Ejuice
This rejuvenating taste of the tropics is sure to leave you mouthwatering. With an alluring blend of freshly pressed papaya, pungent lemon-lime, and juicy mango for a sweet, zesty treat, this satisfying vape juice will take your taste buds on an exotic adventure.
The e-juice has a delicious infusion of fruits. You will start off with cold and sweet spring water that feels deliciously refreshing. And gradually, towards the end, get flavors of several added fruits dripping with ripe fruit flavor. The tropical lemonade will refresh your parched taste buds at a moment's notice! So, enjoy this refreshing tropical beverage in e-liquid form by Coastal Clouds!
Coastal Clouds Iced Apple Peach Strawberry Vape juice
The ejuice by Coastal Clouds features the frozen flavors of summer and fall in the eliquid form! Vapers enjoy a well-rounded mentholated fruit flavor with frosty clouds at every turn!
Three frozen fruits are masterfully woven into this premium eliquid, ready to satisfy all of your frozen fruit cloud cravings at once! They offer a sweet yet icy infusion of frozen fruits into every cloud! Take your frosty fruit craving to the next level, and all thanks to this frozen eliquid - Iced Apple Peach Strawberry Vape juice by Coastal Clouds!
Coastal Clouds Melon Berries Ejuice
Take yourself on an exciting adventure with Coastal Clouds' Melon Berries ejuice. The eliquid features a delicious blend of sweet watermelon, summer strawberries, rich honeydew, and fresh cantaloupe. This trio of melons and sweet strawberries presents a refreshing experience from each puff! Treat yourself to a truly magnificent berry and melon ejuice that promises to delight your taste buds with Melon Berries eJuice from Coastal Clouds.
Coastal Clouds Strawberry Pineapple Coconut Ejuice
This ejuice from Coastal Clouds Premium Vapor is a tropical elixir offering both creamy and juicy fruit flavors combined into one delicious vape. Fresh strawberries are mixed in with creamy coconut, and tangy pineapple finishes the job as you exhale the perfect tropical strawberry vape cloud. The smooth and refreshing eliquid features the sun-kissed flavor of wild strawberries, the smooth and creamy goodness of coconut milk, the tart tanginess of pineapples, the crunchy flavor of cold ice, and the smooth flavor of pure can sugar all in a single cloud!
Coastal Clouds stand out as a winner, and any member of its current lineup would make a perfect addition to your vape arsenal. At ejuicestore.com, we are very happy to provide our customers with the finest range of flavors from the Coastal Clouds Premium Vapor selection at the most affordable price.
Place your order with us today!