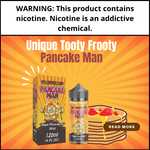 Loves tooty frooty? Have you ever tried vaping with tooty frooty flavor? If not, then it's time to. Ejuice Store has brought a very unique flavor. A sweet and freshly blended flavor is a must to try. If your taste buds are craving something unique and sweet to try you have this to try. You are surely going to love the vape product. 
Ejuice Store has top brands and manufacturers. We bring the best to customers and are unique every time. We have many customers who always choose us for the quality and consistency we have been maintaining. We know well what customers expect from us. Our products are 100% genuine and made from quality ingredients. 
Tooty Frooty Pancake Man by Vape Breakfast Classics 120ml: We will be getting your order delivered on time so that you can enjoy this new fruity flavor soon. 
A stack of pancakes smothered in syrup and candied fruits is what this vape product will offer you. 
The primary flavors of this product include Raspberry, Peach, Banana, and Pancake. 
This amazing product is manufactured by Virtue Vape having a VG/PG ratio of 80/20. It is from the Vape Breakfast Classics brand with a nicotine levels of 0mg, 3mg, and 6mg.
There are many happy customers who found this product very nice to try. 
Take a look at the brands we offer -
Our ejuice brands include Cloud Nurdz, Hi-Drip, Vape 100 Ripe Collection, Skwezed, OG Classic, and many more. Our pods and disposables brands include Bolt, Cali Bars, Phrut, Lucid Flow, and more. We sell quality salt nics, disposable pods, ejuices, and more. 
Every product bought from Ejuice Store is worth complimenting. We have always prioritized customer satisfaction. 
We are available to take calls from Monday to Saturday as our customer service team is available during these days. Hence, you can contact us for any information regarding our products. 
Enjoy vape products of the best quality at very affordable rates. 
Why Us? 
We are experienced in dealing with vape items

Have the best brands of products

There are top manufacturers with Ejuice Store

We are a trusted online store

Affordable pricing

Quick delivery

The friendly customer service team

There are wide categories of products available. 
Hence, choose no other than Ejuice Store to buy vape products.
We regularly update our site hence you can know about the products launched or back in stock easily. We make the whole experience easy for our customers. You will have a good experience with Ejuice Store, that's our promise. 
There are some products that are frequently bought together with this tooty frooty vape item. You can also give it a try. There are Apple Pear Kiwi, Strawberry Coconut Pineapple, Pineapple Orange Mango, and Blueberry Raspberry Strawberry flavors to taste. Enjoy every product from Ejuice Store.