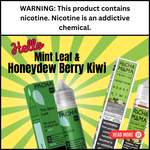 Pachamama is equivalent of the "Mother Earth" in the Incan empire presided over the fertile lands surrounding the Andes Mountains as the fertile goddess, believed for overseeing the harvesting and planting. 
Likewise, Charlie's Chalk Dust's namesake lineup of vape juices is presiding over the vaping community by developing masterfully crafted vape blends of different delicious fruits on Mother Earth. So, just grab a bottle of Pachamama vape juice and get ready to indulge your taste buds in the sweet, satisfying, and refreshing flavors. 
When it comes to vaping Pachamama vape juice flavors, you should try out The Mint Leaf Honeydew Berry Kiwi by Pachamama 60ml. The Mint Leaf Honeydew Berry Kiwi E-juice will give you a mouthful of amazing flavors with an incredibly balanced flavor profile.
On the first inhale, the sweet, delicious Honeydew Melon flavor takes the lead; but gets pushed quickly by the exotic blend of berries. The berries explode around the taste buds like a volcanic eruption. 
On the exhale, the tartness of Kiwi makes its appearance to contrast the juicy sweetness of Honeydew Melon and Berry flavors. To balance all these flavors, the Mint Leaf adds a unique, refreshing cool that will leave a lasting impression you will crave for it again and again. 
The Mint Leaf Honeydew Berry Kiwi vape juice by Pachamama 60ml gives you a sweet vape juice flavor along with a calming sensation of menthol. The sweetness of Honeydew and the invigorating taste of berries will delight your senses in the best way possible. It makes a righteous approach to complement those sugar desires. 
When you breathe in the delicious blend of sweets like Honeydew Melon and Berries, your taste buds will moan in contentment. While breathing out, a refreshing mint flavor will wash away the sugar trailing sensation and leave your taste buds feeling revived as much as possible. 
Take your taste buds on a journey of a yummy burst of juicy berries and tangy kiwi flavor that will sprinkle sweetness over the palate. When the flavors start building up, the crispiness of Honeydew Melon will refresh your taste buds and fresh mint will cool you down. 
So, do you want to vape The Mint Leaf Honeydew Berry Kiwi by Pachamama 60ml? Shop now your favorite Pachamama vape juice flavors from a trustworthy online vape shop – Ejuice Store. Please check out our available deals and special offers on Pachamama and vape your vape juice flavor to the fullest.