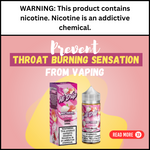 Millions of smokers all over the world have switched from smoking cigarettes to vaping. Vaping has a wide range of advantages that cannot be disregarded. But, if you're a new vaper, e-cigarettes still present some minor obstacles.
Vapers may occasionally experience the dreaded "dry hit" or even a burning feeling in the throat. Even though it is not a big issue, you shouldn't disregard the discomfort. In this post we have outlined the causes of that unpleasant burning sensation you may be feeling when vaping and have given suggestions for preventing it in the future to help you vape smoothly.
High-Strength E-Juice:
A "throat hit" is the term used to describe the sensation at the back of our throat as we inhale vape. The severity of a 'throat hit' is determined by the strength of your e-juice; the stronger the e-juice, the more powerful the 'throat hit'. As a result, if you vape consistently with a strong e-juice, your intense "throat hit" may eventually cause a burning sensation.
To avoid this experience, decrease the strength of your e-juice gradually until your nicotine cravings are satiated without irritating your throat. However other people might be hesitant to switch to lesser vapes if they prefer high-strength e-liquids or have recently stopped smoking cigarettes. In these situations, switching to nic salts is advised. You can continue smoking high-strength e-liquids without experiencing a strong "throat hit" because these contain many types of gentler nicotine.
E-liquid Ingredients:
To make sure the substances in their products are safe for ingestion by humans, all vapers should use e-liquid from reputed brands. The majority of tested vape products are unlikely to have any negative side effects. A handful, however, can cause mild effects in a small proportion of vapers. Propylene Glycol (PG), which is included in many packaged foods and cosmetics, can produce a minor allergic reaction that results in a sore throat. If you frequently have a sore throat while using a vape product with a high PG percentage, try switching to an e-liquid with a greater Vegetable Glycerin concentration.
Experience a wave of exotic flavors with
Nectarine Lychee by Hi-Drip 100ml. you can get this e-juice in 0mg, 3mg, and 6mg nicotine strength as per your needs. The e-liquid is also available with VG/PG Ratio: 70/30. Visit ejuicestore – the best Vape Store to place your order!