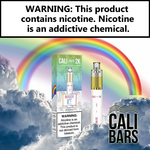 Disposable vape pods are small non-rechargeable devices, pre-charged & pre-filled with appetizing e liquid. All you need to do is just open the pack and start your vaping adventure right away. As soon as you are done with dispose it & open another one.
Disposable employ high potency salt nicotine which offers a gratifying & easy way into the vaping world. Disposable pods are designed to replicate the experience of smoking but without hassle. You don't need a lighter to start vaping. The disposable vape pen is draw activated so it is ready to vape whenever you want it.
No worry of charging and refill:
The best thing about a disposable is that you don't have to be worried of how much charge is left or when you have to refill it. As small as a cigarette in size disposable are ideal for vaping when you are on the go.
They can be easily kept for a year without any damaging effect. You can use it as a super portable daily vape or to act as a backup.
Give a disposable gift to your friend who smoke:
Got friends who smoke regularly? Why don't gift them a disposable vape pen to let them know how convenient it is to vape. No nasty smoke and no need for a lighter to start vaping anywhere you would like to. It is all about mouth-watering vape juice flavours & a gratifying throat hit.
However, when purchasing disposable you must know your requirements. Do you need a super small & portable vape? Do you wish a larger disposable which last longer.
Try Rainbow Ice Disposable Pod (2000 Puffs) by Cali Bars 2K:
If you get tired of flavours easily, then you are definitely going to like Rainbow Ice Disposable Pod (2000 Puffs) by Cali Bars 2K. You are going to find your match with this blend that is packed with a literal rainbow of flavour. Available with 2000 Puffs, this vape pod is definitely going to give some good months of vaping adventure without the nasty smoke of your conventional cigarette.
You will enjoy a vibrant rainbow sorbet flavoured base with handfuls of sweet fruit candies dispersed throughout. The added menthol will make that sorbet flavour as authentic as can be. It's tough not to overindulge when vaping a blend this joyful. Feel free to place your order here at
ejuicestore.com
.