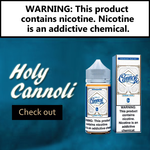 Holy Cannoli e-liquid is a leading vape juice producer with lots of experience in the vaping industry. The e-juice company is well-known for supplying top-notch e-liquids. If you love vaping delectable dessert flavors, you'll be amazed by the unique vape juice blends available in the Holy Cannoli e-liquid collection.
Holy Cannoli vape juices lives up to their name with their delicious flavor profiles that give a unique taste of Italian desserts in every puff. Some of the best selling Holy Cannoli e-liquids are Apple Bread, Southern Bread, Glazed Donut, Strawberry Cream, Blueberry Strudel, and Fruity Pebbled. They are excellent tasting flavors you should try out at least once in a lifetime. Take a look at their flavor profiles and make a right selection.
The Southern Bread Pudding comes with an exceptional blend of flavors that create the amazing breakfast vape juice you love put it in your vape device. This eLiquid brings in the sweet bread bake and drenches them into a creamy condensed milk along with hints of brown sugar, tasty cinnamon and warm sweet flavored fluffy breaded pudding.
The Apple Bread Pudding makes for a deliciously tasting breakfast vape juice that you'll love enjoying in your vape device. This eLiquid has freshly available Granny Smith apples and bakes them into tasty bread pudding along with the hints of tart juicy apples, cinnamon and sweet fluffy breaded pudding.
Glazed Donut ejuice brings you the delicious classic flavors of Holy Cannoli. This eLiquid makes for a scrumptious dessert vape filled with creams and custards combined into soft and golden glazed donut. You will enjoy this bottle of goodness in the morning, noon or night.
Strawberry Cream is a uniquely flavored vape juice from Holy Cannoli that comes with an exceptionally sweet combination of creamy strawberry filling stuffed into a tasty cannoli and topped with confectioner's sugar. Upon taking every puff, you'll feel like enjoying a dreamy vaping experience.
Fruity Pebbled by Holy Cannoli is a tasty, colorful creamy vaping treat and is ideal for enjoying any time throughout the day. It's a perfectly made, cream filled cannoli stuffed and topped with a handful of fruity pebbled cereal combined to create a rainbow of flavors to excite your vaping taste buds.
Bottom Line –
Taking just one puff of Holy Cannoli eLiquid, you'll never want to try any other dessert ejuice flavor again. It feels amazing. If you haven't tried any Cannoli vape juice yet or this Italian dessert vape juice, your taste buds will be pleased by the divine flavor and satisfying throat hit from Holy Cannoli. Check out the Ejuice Store collection of Holy Cannoli e-liquids and taste the e-juice flavor that will make you vape again and again.