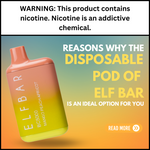 You may be new to vaping or trying to make a change from smoking to vaping, there are various options open in front of you. Of all the options disposable pod of Elf Bar is one that none can beat. Mango Peach Apricot Disposable Vape (5000 Puffs) by Elf Bar BC5000 is one such variety that you can try if you like the flavor of Mango, Peach, and Apricot. The nicotine level is 5% and the VG/PG ratio is TBD. Let us have a look at why choosing a disposable pod is a better solution than any of the other options.
Easy to carry 
It is easy to carry a disposable pod than any other vaping device. If you have to carry a disposable pod you can easily do that by placing it in your small handbag. However, when you need to carry any other vaping device, you need to carry the device, the charger, the vape juice, and other necessary accessories. So, you will be requiring an extra bag to carry it. The disposable pod of Elf Bar is like a pen and it can easily fit in your pocket.
Easy to use
If you have a disposable pod, it is pretty easy to use. You do not need to charge it or fill it with e-juice before vaping. You just need to place the mouthpiece of the pod in your mouth and inhale. The airflow indicator will help the pod to understand that you are inhaling and it will start working. You cannot find this convenience of use if you are using any other vaping device. After you have drawn the number of possible puffs, you just require to dispose of it and buy a new one.
Varieties of vape juices
It is possible to taste various flavors when you are using a disposable pod. You name an item and it is possible to have a disposable pod offering you such flavor. You can frequently change flavor if you have disposable pods of different flavors in stock. We at Ejuice Store make it possible to have access to disposable pods of various flavors and you can order easily by mailing us. From us, you can have flavors like Menthol Orange Pineapple Peach, Green Apple Candy, Strawberry Watermelon, and many more.
Pocket friendly
These disposable pods are not costly and you can easily buy those. Moreover, there is no recurring cost to incur as you have to do with other vaping devices.
Fit your lifestyle 
The design of the pod and the pleasure possible to have using it will suit your lifestyle.
So, do remember us at E Juice Store when you desire to buy 
Mango Peach Apricot Disposable Vape (5000 Puffs) by Elf Bar BC5000
.