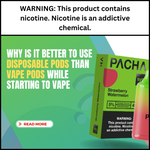 Are you trying to switch from smoking cigarettes to vaping? If you are then you will have confusion as to what to buy to make an effective switchover. Should you buy a vape pod or disposable pod, like those made by Pachamama Syn? We will discuss to show you why it is wise to buy a disposable pod rather than a vape pod.
Minimum maintenance 
If you buy a disposable pod, like Strawberry Watermelon Disposable Pod (4500 Puffs) by Pachamama Syn there will not be any requirement of maintenance like you have to if you buy a vape pod. The disposable version comes ready to use and after you have used the pod for the desired number of puffs you dispose it and start using a new one.
Easy to carry 
Disposable pods are small and lighter in weight and can fit into any small bag. So, it is easy to carry than a vape pod. If you have to carry a vape pod, you need to carry the device, the charger, and the bottle of vape juice. In itself, it will become additional luggage.
Less expensive 
If you use a disposable pod, you only have to make the initial investment and there will be no additional cost. However, if you buy a vape pod, you need to spend to change the coil at regular intervals, buy vape juice, and also pay for electricity to charge the device. So, if we compare, you will find that there is no recurring expense if you use a disposable pod.
Availability of different flavors 
Disposable pods are available in various flavors. Like you can have it in flavors of Black Menthol Ice, Blood Orange Pineapple, Fuji Apple Ice, Strawberry Watermelon or White Peach, and many others. So, you can change over to a new flavor after you have ended up using one.
Easy to use
Disposable pods are easy to use. You do not have to refill or charge the device before using it. You just need to start inhaling from a disposable pod and have the pleasure of vaping. Some disposable pod has a switch, if your variety is such you just need to switch it on. As you stop inhaling the device automatically stops to work.
Though it is entirely up to you what you desire to use a disposable pod or a vape pod, if you follow our advice, it is better to use a disposable pod. You can contact us at E Juice Store to have disposable pods of reputed make and enjoy your vaping experience.