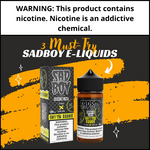 The SadBoy E-Liquids are a must-try for all vaping enthusiasts out there. This sweet, delectable collection is sure to satisfy the desires of your taste buds, giving you plenty of reasons to get excited about vaping. With their flavors and aroma exploding in your mouth, these ejuices will make you come back for more.
Whether you're a beginner or an advanced vaper, SadBoy tear drop vape juices can satisfy your expectations. Here are some of the best SadBoy vape juices you want to try out today:
Shamrock Cookie Vape Juice by Sadboy 100ml:
Feeling down on your luck? Give Shamrock Cookie by Sadboy a try, and you will find your luck fixed immediately. You will definitely admire Sadboy's Butter Cookie drenched in a pleasingly cool & creamy milkshake.
Available in Mint, Milkshake, and Cookie flavour, Shamrock Cookie Vape Juice by Sadboy 100ml will give your nicotine fix almost instantly. You can buy this vape juice in 0mg, 3mg, and 6mg nicotine strength with a VG/PG Ratio: of 70/30.
Butter Cookie by Sadboy 100ml:
Butter Cookie by Sadboy E-Liquid features a light lemon zest to balance the satisfying brown butter taste for a filling taste every time. Made with only the best ingredients in the USA, this e-liquid is a delicious pastry treat that you can enjoy all day. The inhale gives you a lovely baked pastry flavor, sweet and crunchy, with bits of butter in every bite. The exhale is where things really come together, though: buttery and sweet with a slight lemon zest that finishes off this liquid treat with a mouthwatering finish you won't soon forget!
Pumpkin Cookie by Sadboy 100ml:
Pumpkin is the quintessential flavor of Fall, and Pumpkin Cookie by Sadboy is one of the best pumpkin-flavored ejuices on the market right now. This vape juice flavor is a fresh-baked cookie that has been infused with delicious pumpkin flavors to bring you an ejuice that tastes truly amazing. The inhale is packed full of sweet, decadent flavor as it rushes across your tongue, leaving you with a perfect balance of pumpkin and sweetness. Get this vape juice in 0mg, 3mg, and 6mg nicotine levels as per your capacity.
Ejuice Store is your one-stop online vape store where you can find a wide range of authentic vape liquids from renowned e-juice brands like Sadboy. We ensure you receive the best quality and affordability while shopping for vape juices online!