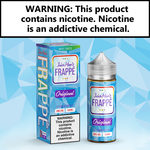 Juice Man is a premier vaping brand which has been in the industry since 2013. So, you can rest assured that they know more things about vaping. Juice Man is an award-winning brand specializing in delectable vape flavors to choose from.
This vape brand works on the same from its inception – to provide vapers with premier standard vape liquids that the vapers of every kind will fall in love with. They have worked consistently towards their goals to achieve success in the industry.
Juice Man flavors will fit right in the vaping preferences of vapers from all around the world. The vaping brand is focused on crafting and perfecting different vape liquid flavors and providing something unique to all kinds of vapers.
Why Do You Vape Frappe by Juice Man 100ml?
Juice Man Frappe vape juice is a delectable cotton candy infused with blue raspberries, mangoes, and coated with whipped cream. On the inhale, you'll enjoy mouthwatering blast of fruity blends – sweet mangoes and tart raspberries.
All of them are combined perfectly together to complement your taste buds. Get ready to experience the real magic on the exhale. You'll take advantage of fantastic fruit flavors combined with sugary and whipped cream as well as cotton candy.
You don't need to get on that coffee house line as you can get to taste the sweetness and sourness of Frappe from Juice Man. This mélange of flavors gives you a very unique experience that satisfies your vape delights in the best way as possible.
Start your day with this outstanding vape flavor and get the perfect blend of sour blue raspberries and juicy tropical mangoes topped off with white cream to creating a smooth finish. At the end, you'll have an overwhelming vaping experience. The Frappe makes for an ideal addition to daily vape because of its exceptional balance of flavors and tenderness on your taste buds.
Frappe vape juice comes with a delicious blend of most popular eliquid flavors i.e. mango, cotton candy, blue raspberry and cream in a sweet and tart fruit fusion that you'll love for sure. In addition, it contains superb quality nicotine salts and is specifically designed to be used with refillable pod or low power vape systems.
Final Consideration –
The overall quality of vape juices shouldn't be taken lightly. That's why Ejuice Store take extra care and attention to detail to guarantee the quality of vape juice flavors and the peace of mind of vapers shopping from our vape store.
We are highly committed to providing you with superb quality vape juice flavors while making sure that all the flavors meet our industry standards and are available in fresh. With Ejuice Store, you get to take advantage of guarantee on quality vape juices and enjoy these flavors effortlessly. Check out our Juice Man vape juice flavors and make a right selection for your ultimate vaping experiences.