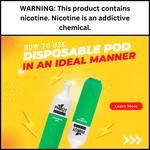 When you purchase a disposable pod at first it may look confusing as to how to vape using that. You cannot find any switch to start the device and that draws in more confusion.
How to use a disposable pod 
The first advantage of using a disposable pod, like Strawberry Kiwi Disposable Pod (3000 Puffs) by Pachamama Syn is that it comes ready to vape. You do not have to refill it or charge it before use. The only thing that you need to do is to insert the mouthpiece into your mouth and inhale. The airflow indicator will make the pod understand you are inhaling and it will start working on its own You can vape and have smoke in the flavor of Strawberry, and Kiwi. The nicotine content is 5% and the VG/PG ratio is 50/50.
It is wise to have short puffs and wait for some time before again drawing in.
How to have more vapor
You need to use the primer puff technique if you desire to have more vapor. You need to take a short puff and that will set the atomizer hot. If you immediately take a longer puff you can enjoy more vapor as the coil is already in a heated state. However, you need to remember that using the primer puff technique will exhaust the pod quickly and you need to buy a new one. However, we at E Juice Store are always with you to supply disposable pods made by Pachamama Syn.
Is it possible to vape a disposable pod like a cigarette? 
There is a basic difference between cigarettes and disposable pods. When you light a cigarette, you can smoke until there is no tobacco to produce smoke. If you do not dislike the taste of relighting a cigarette you can stop in between. However, a disposable pod allows you to puff for a specific number of puffs. It will stop working when there are no puffs left. So, you need to display self-constrain when you use a disposable pod to vape. You need to stop inhaling and the device will stop working. If you continue more the device will work but the vaping experience will not be ideal. 
Time your vaping session 
It is not that as vaping is a healthy way you can vape whenever you desire. It also contains nicotine so restrict yourself from vaping all the time. Have a specific time when you vape so that you can restrict continuous vaping. Doing such will help you to enjoy most and have an excellent vaping experience.