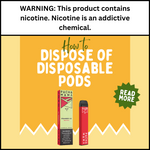 Is it that you have purchased Strawberry Ice Disposable Pod (1200 Puffs) by Pachamama Syn from us at E Juice Store? If you have then you must be having a pleasant time vaping having a taste of menthol and strawberry. The nicotine level is 5% so it can also satisfy your smoking desires. The VG/PG ratio is 50/50 so you will not suffer from sore throat but have an idea hit. However, as it is a disposable pod you need to dispose of it off properly. We will discuss today how to do such effectively.
Not to dispose of with house trash 
We have a tendency to dispose of anything in our house with the general trash that we leave outside each night. However, it is not wise to dispose of disposable pods like that. It is ideal to dispose of it at a hazardous waste site. It is wise to follow the tips that we share with you today about disposing of the disposal pods.
Read product manual 
It is wise to read the user manual before you dispose of the pods. They might have advised special ways to dispose of the pod. If there are any such tips from the manufacturer follow those in full.
Using a sealed container 
It is always wise to dispose of the pod in a sealed container. You need to use this sealed container to carry the pod to the disposal site.
Isolate and pack  
It is wise to isolate the pod and pack it separately when you have finished using the disposable pod. It is wise not to mix it with any other trash so that you do not misplace it with others. You need to seal the container and label it before you dispose of it. 
Rules and regulations
There might be specific rules and regulations in the area where you live about disposing of the pod. You need to know about the rules and follow those in the true sense so that you do not face any legal consequences.  
Do not try to dismantle
You should not try to dismantle the disposable pod before you dispose of it. It may be hazardous to do so. So, avoid doing such. 
If you still have any confusion about the disposal of any vaping device or juice, call us at E Juice Store. We will be more than happy to help you. We are also a reputed store from where you can buy vape devices and juice made by 
Pachamama Syn
. We make it possible to have products well within the expiry date by paying an affordable rate. We also ship all our orders for free.