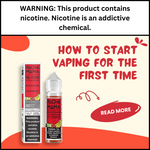 If you are new to vaping then you certainly have confusion regarding the technological terms, the language used, the products available, and the methods of vaping available. This is the first barrier that you need to overcome when you desire to switch completely from smoking to vaping. There is enough to learn before you can start vaping using Blood Orange Banana Gooseberry by Pachamama in 60ml that you have purchased from us at E Juice Store. You need to learn about how to select vape juices, and devices, way to maintain the devices and know about the variety of vaping techniques.
We have listed a few aspects that you need to know when you first try your transition from smoking to vaping. Having such knowledge will help to have a hassle-free transition and avoid having negative vaping experiences.
Select the ideal device 
You need to find time to know about the various kinds of vaping devices that you can buy. You need to base your decision on the routine that you follow and your comfort preferences. If you require a small device, then a vape pen will be ideal. If you desire to have much taste, power, and smoke cloud you need to look into something bigger like a box mod.
Choosing the e-liquid
The taste, satisfaction, intake of nicotine, and comfort depend on the vape juice that you purchase. Like if you purchase Blood Orange Banana Gooseberry by Pachamama in 60ml it will be possible to have the taste of Orange, Banana, and Gooseberry. The possible nicotine levels are 0mg, 3mg, and 6mg. The VG/PG ratio is 70/30. You need to depend on a reputed manufacturer and distributor to have the best supply of vape juice. If you chose a reputed manufacturer, you can be certain that there are no hazardous ingredients in the vape juice. Being with a reputed distributor like us ensures that you have products well within the expiry date and enjoy free shipping.
Proper maintenance 
You should know how to properly maintain the vaping device. If you do not maintain it properly you cannot expect to have the quality and flavor that you desire to have.
Like you need to clean the tank when you change the vape fluid. It is best to clean the tank once a month properly. You need to shake the e-juice bottle before every use so that the nicotine and VG/PG have even distribution.
Try to change the flavor once in a while
It is wise to change the flavor once in a while so that you do not get bored tasting the same flavor. It is possible to have vape juices in different flavors of 
Pachamama in 60ml
from us, you can use that as you desire.