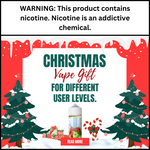 The festive months are going and the Christmas & New year is almost upon us. Have you done your shopping yet? Choosing the perfect Christmas or New Year gift can be annoying. Now is a better time than ever to select a gift of vaping. It will surely lead to a smoke-free lifestyle for those that mean the most to you. Are you looking to buy something for someone who smokes or vapes or purchase an e-liquid for yourself? Then you've come to the right place at the Ejuice Store! 
Purchasing a gift for Christmas or new year isn't always the easiest of tasks. Are you a smoker searching a quality e-liquid or soon-to-be leave smoke? Are you searching for a e-liquid for new year gift? Then Watermelon Green Apple Ice by Skwezed 100ml might be the ideal gift. However, we will guide you to buy the perfect gift product based on the user level. Let's find it!
Gifts for First-Time User Vape 
Do you know somebody who is trying valiantly to give up smoking? Are you trying to support them and help them adopt a smoke-free lifestyle?
So now is your chance. Giving a vaping product is ideal throughout the holidays and the new year! It arrives precisely in time to assist them in keeping their New Year's resolutions. So, surprise your loved one with a gift that will truly change their life for the better.
Gifts for Beginner Vape Users 
Do you know anyone who occasionally satisfies their needs using a vape kit? It can never seem to fully cut out the cigarettes. They may struggle to keep up with the cost of disposables. This can indicate that it's time to replace their equipment with something more durable.
There's no better way to give them a vape device with an e-liquid such as Watermelon Green Apple Ice by Skwezed 100ml. It is suitable for beginner users. It will add extras to ensure they're all stocked up and ready to get started right away.
Gifts for Intermediate Vape Users
Modern vape devices are simple to use and easy to maintain as well. It is perfect for beginners or anyone looking to upgrade their current vaping style. without sacrificing quality! 
Did your loved one have been using an entry-level vape device for a while and wanted to change the flavor? It may be time to get an open-vape device for them.
It allows the user to add more vape juice to their device. You can also gift them with a Watermelon Green Apple Ice by Skwezed 100ml which could be the best addition without sacrificing the quality. It contains 0mg, 3mg, and 6mg of nicotine, which is loved by users who prefer strong throat hits.
Advanced Vape User Gifts
Are you looking for a gift for someone who's already very familiar with vaping? You can give them a vape device that will blow their mind. Are you searching for a sophisticated vape device? You can go with a sub-ohm vape device. 
Advanced vaping devices help users get complete control over their vaping experience. It is good to create bigger clouds, better flavor, and more power than a standard vape device. 
The endnotes.
We at EJuice Store exist to make the USA smoke-free. Everyone ought to have access to an affordable and premium vaping experience, in our opinion. We are proud to help people who are looking for an alternative to smoking. We help you find the best vape device & e-liquid for a Christmas gift. Please get in touch with us if you have any questions since we want every one of our clients to have the finest first vaping experience possible.