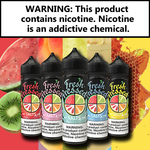 Do you love fruity flavored vape products? Whether you are new to the vaping world or have been there for years, fruit flavors are always enticing. And when it comes to fruit flavored nicotine salt collection, no one can beat Fresh Pressed Salts. Fresh Pressed Salts is a fruit inspired short fill range based in California. All the Fresh Pressed Salts are 60% VG fruit blends that are perfect for sub ohm vaping.
What is Sub Ohm Vaping?
Sub Ohm vaping is a vaping style that produces big vapor clouds and an astonishing amount of flavor. All this experience can be achieved by using a sub ohm device that uses low resistance coils; typically less than 1 ohm on a battery which is capable of delivering a high wattage.
Vivacious Fruity Flavors
Moreover, the brand consists of vivacious fruity profiles with a plethora of out of the ordinary and exciting options. And we at E Juice Store have been in the industry for years now and discovered that the demand for Fresh Pressed Salts is increasing day by day.
By looking at the increasing demand for the nicotine salt flavors, the manufacturer is trying their best to create more such unique and enticing flavors. We at E Juice Store also carry some of the best-selling flavors from the house of Fresh Pressed Salts which will make you fall in love with the brand! Check out the flavors we possess in our inventory below:
As the name says, Fruit Finale by Fresh Pressed Salts 60 ml is the grand finale of all fruity flavored vapes. The flavor is the concoction of luscious apples, ripe pears and Amazon forest fruits, which results into an ultimate fruity delight loved by vapers of all kind.
Another exotic fruit flavor from the house of Fresh Pressed Salts is Honeycomb Berry that is a true delight for any fruit fanatic. This flavorsome vape product is jam packed with fresh succulent fruit bursting with lip smacking flavor. Honeycomb Berry Salts is the combination of traditional limeade and freshly picked Hawaiian berries finished off with a drizzle of honey straight from a honeycomb to create the ideal balance of stimulating sweetness.
If you are searching for a flavorsome delight to beat the heat of those hot summer days? Then Lava Luau by Fresh Pressed Salts is your best bet. This exotic flavor is a Hawaiian blend of watermelon, kiwi, and mixed berries frozen to a teeth chatting frost. This flavor proves that fire and ice can coexist.
No flavor can be more enticing than that of Grandma's Baking! Do you crave for the flavor? Then Fresh Pressed Salts has brought you the old fashioned mixing of whipped custard, vanilla beans, and crunchy pecans into a sugary masterpiece.
Pressed Pink Melon by Fresh Pressed Salts is a  60ml of fresh fruit amalgamate. This flavor is a fresh mix of peach, watermelon and honeydew transporting you to an exotic island for vacationing.
Want to explore more such fun-filled fruity delights? Visit our
online store
today!