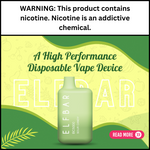 Are you looking for a disposable vape that comes within your budget while offering you premium flavors? Then we at E Juice Store would say that the Elf Bar BC5000 disposable vape devices are your best bet. These devices are high-capacity miniature box mod that are super light and slim which can fit into anyone's pocket. Furthermore, it comes with a high-performance dual coil that is powered by a rechargeable battery. 
These disposable vape devices are available with more than 40 flavors in different nicotine strengths, which makes these an all-in-one vaping solution. The brand is renowned for it flavor performance and incredible capacity which offers enough juice to vape users that can last at least up to 3 days.  The adequate quantity of e juice in this small vaping device can offer thousands of puffs! 
How does this device perform?
The Elf Bar BC5000 comes with an incredibly high performing dual coil which helps in offering quality mouth to lung draws and hits quietly. It is the best choice for users seeking a perfect alternative to smoking. The throat is dependent on the nicotine level you choose i.e. the higher the nicotine level, the stronger will be the hit.
We at EJuice Store, being a premier online vape store suggest each of our customers to use these products cautiously and carefully. Otherwise you may experience side effects such as dry mouth, headaches, nausea, irritation in mouth and throat and likewise.
What are the different flavors from the house of The Elf Bar BC5000?
Among the various flavors available the following are some of the best-seller flavors include:
Sour Candy Disposable Vape Pod
It is a sour fruit mix. Sour candy disposable vape is filled with a sweet and sour mix that comes with notes of berry, citrus, grape and melon in each puff.
Watermelon Bubblegum Disposable Vape Pod
Watermelon Bubblegum Disposable Vape brings you  an experience of the aromas of flavorful bubblegum and watermelon. Take delight in this hubba bubba-licious vape juice flavor on your taste buds and fall in love with vaping all over again.
Blue Razz Ice Disposable Vape Pod
Blue Razz Ice Disposable Vape is the classic vape juice flavor that is known and loved by everyone. Relish the sweetness and tartness of blue raspberries that are finished with a hint of ice for a cool kick. This device brings you a perfect balance of tangy and sweet refreshment.
Sour Apple Disposable Vape Pod 
The Sour Apple disposable vape realizes you with an authentic tart flavor that you will appreciate on the first hit itself. Get indulged in the tangy flavor of green apples that will keep you coming back for more!
Come and explore EJuice Store and discover the amazing flavors by Elf Bar BC5000.