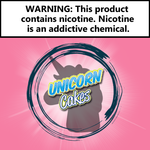 Curious minds often tend to search about the "how is and what is" everything around them. To serve the inquisitiveness of the basics of vape liquids, we've shared the following info which would be helpful to the 1st time and seasoned vapers.
With the recent change of trend from smoking cigarettes to vapingvape juices, the demand of flavoured vape liquids like Unicorn Cakes by Vape Breakfast Classics has gone up drastically.
When you purchase vape juices online, you're provided an option to pick the size of the bottle alongside the nicotine potency. Now, not all vapers would comprehend what to order & that's precisely what the below mentioned content will articulate.
Base:
The fundamental ingredients in any vape juice are vegetable glycerine (VG), propylene glycol (PG), nicotine and added flavorings. Nonetheless, what's PG and VG, you might assume! Let's find out:
PG: The use of PG is to ease the vaporization in vapes& also for the throat hit you enjoy while inhaling.
VG: The production of clouds of vapours is with the assistance of this chemical compound known as vegetable glycerine. It enhances your vapor creation that gives a smoother throat hit and exemplifies hints of sweetness to the blend.
A mixture of both the bases can also be found in vape juices which offers the best of both. For those who wish a better experience of either base with their flavor, can pick their vape juices accordingly.
Nicotine:
A lot of things has been said regarding nicotine, but the very negligible amount of it is found in vape juices. In fact, retailers like ejuicestore.com provide their consumers a choice to buy their vape juices as per the potency of nicotine they like, that is – 0mg, 3mg and 6mg.
The taste of e liquids and vape juices are made from an amalgamation of natural and artificial flavouring chemicals such as:
Vanillin – This flavouring is extracted from a vanilla bean.
Tobacco absolute – When tobacco extract is employed, it offers a misty component to tobacco juices.
Linalool – Discovered in several flowers, plants and essential oils, this chemical component brings out a herbal flavouring to the e-juice and vape juice.
Ethyl maltol – It's the same flavour we find in some candies and sweets. It's an organic compound which delivers a sweet, bakery like flavour.
Malic acid – This fruity and sour flavor is naturally found in vegetables and fruits, which produces the same flavor effect in vape juices as well.
With more & more online stores, vape juices should be purchased from specialized vape stores like
ejuicestore.com
.