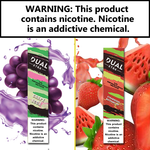 New to vaping? Have you recently came across vape pods? Feeling excited to know more about these vaping devices and try them out? Then we at E Juice Store have brought to you some interesting facts and information about vape pod devices below. Check these out:
Vape pod devices are one of the most popular options for vapers of all kinds - be it a new vaper like you or a seasoned vaper. The reason behind its incredible popularity is that these are easier to use and far more approachable than the traditional vape mod device. Usually, there are two types of vape pod devices i.e. refillable and pre-filled. Both of them have their own advantages.
Disposable or pre-filled or closed system pods
Disposable or closed-system pods use pre-filled cartridges that come in a wide range of flavors and strengths. A pre-filled pod system is the one in which you need not have to deal with any sort of mess that is involved with an open system pod as you need not have to refill it. Most of the ranges will have numerous different flavors to suit most of the tastes. Also, pre-filled systems are designed to fit with its device perfectly hence, there is little to no chance of leakage of e-liquid, which is mostly an issue with the larger refillable pods. Besides that with a pre-filled pod system you don't have to worry about changing the parts of your vape on a regular basis. Rather you will throw them away once you are done with each pod. One drawback of closed system pods as compared to open system pods is that these are expensive!
Refillable Or Open System Pods
On the contrary, a refillable or open system pod can be simply clicked in and out but it isn't disposable. Once your pod gets empty, you can refill it with your favorite flavored e juice. Open system pods do not come with a prefilled pod, hence, you will have to buy e-liquid separately and fill the pod yourself, through a small opening in the pod segment. It implies that you will have to put in a little more effort. Also, you can use whichever e-liquid you like without being restricted to any particular brand or range. You can try vaping with nicotine salt e liquids or any other vape juice flavors offering you more variety from your vape experience. Moreover, open system vape pods are cheaper comparatively.
We at E Juice Store offer a wide selection of vape pod flavors such as Grape Soda Disposable Pod (1600 Puffs) by Dual Xtra, Sweet Candy Disposable Pod (1600 Puffs) by Dual Xtra, Strawberry Watermelon Disposable Pod (1600 Puffs) by Dual Xtra and many more.
Why Dual Xtra? Dual Xtra is a small, compact disposable pod system with a 5ml capacity tank and a nicotine strength of 5% nicotine in each flavor that offers an authentic yet simple vaping experience.
We also provide several other brands of vape pods. To explore more visit our website today.