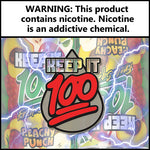 Are you looking to vape something new? If yes, then why don't you choose from the vape delights from Keep It 100! Keep It 100 brings you a comprehensive range of flavors for every mood from creamy to fruity. You can never go wrong with this delectable lineup of vape juice flavor. 
Every flavor from Keep It 100 collection enhances your vaping experience while making it more flavorful and ensuring large clouds of vapor which are second to none. Every flavor is available in a squeeze bottle and your preferable nicotine strength. All of their vape juice flavors are one-of-its-kind and are something you should never miss out on. 
OG Orchard (Peachy Punch) by Keep It 100ml has everything to delight your vape palate to the fullest. This exceptional flavor comes with a delicious medley of sweet fruits from summer. The enticing vape combo has the juiciness of southern peaches, crispiness of tart apples, tropical mangoes and vine ripened strawberries. 
The fruity extravaganza will give a tantalizing experience to your taste buds every time you vape this eliquid. The peach, apple, strawberry flavors offer a smooth and tropical mango finish along with a right sweetness and tartness ratio. Formerly known Peachy Punch, this Keep It 100 vape juice comes with everything to appeal your vape delight in the best way as possible. 
When you inhale, your tongue will get trickling sensation of sweet peach flavor. It will satisfy your vape thirst right away. After that, a blast of sugary strawberry flavor kisses your sweet tooth. On the exhale, your mouth will be watering by the crisp apples and tartness. Then, the tropical mangoes will provide the extra sweetness to your overall experience. 
OG Orchard (Peachy Peach) by Keep It 100 100ml comes in a large size 100ml bottle. If you love vaping and crave huge clouds as well as a nice throat hit, you'll definitely enjoy its 70 percent VG and 30 percent PG base. If you're a vape enthusiast who want the fruity blends tingling on your taste buds, then this vape juice will satisfy you like no other. 
Moreover, the delicious sweet flavored juice combines the fruity delights like the strawberries, peaches, apples and mangoes to provide you with the ultimate vaping experience that you truly crave for. This delectable fruit combo allows your tongue to enjoy like a party that you're only invited to. 
If you want to treat your taste buds to this exceptionally flavored vape, you should look no further than Ejuice Store. Apart from OG Orchard (Peachy Peach) by Keep It 100 100ml, you will find an extensive selection of vape juice flavors from Keep It 100 to choose from. 
No matter whatever flavor you choose, our ejuice flavor will delight you to the fullest. Please check out our available eliquid flavors today at
https://www.ejuicestore.com/
. You're sure to find your favorite.